"Doesn't it strike you as just a little funny when you think of us actors eternally putting on and taking off make-up and spending the best part of our days and nights making funny faces? When you look at it from a grown-up point of view, acting is the most childish of professions, isn't it? The way I justify it to myself is that with me acting is like a drug and I am an incurable addict. I can't get along without it. I can't throw it off." — Peter Lorre
Source: Hilary Lynn (1935)
Photo: Mad Love (1935)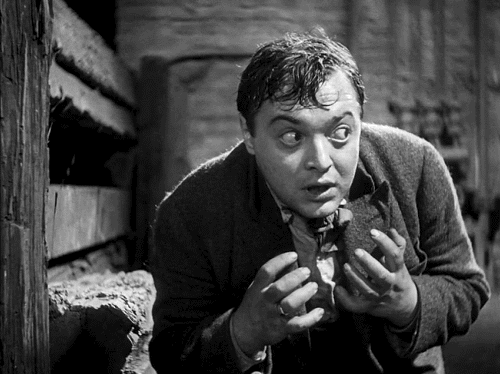 "I need acting as other men need drugs and stimulants. It is my life and I would lose all interest in existence if I could not devote my entire time to it." — Peter Lorre
Source: Whitney Williams (1935)
Photo: Mad Love (1935)
Mad Love (1935). With Frances Drake.
"I don't want to be a nobody forever." – Peter Lorre
"All that anyone needs to imitate me is two soft-boiled eggs and a bedroom voice." — Peter Lorre 
On location with Gina Lollobrigida for Beat the Devil (1953)
Famous Monsters Magazine from 1962. On the cover is Peter Lorre, Basil Rathbone, and Vincent Price.
"Peter Lorre, 1965." 1992. Artist: Paolo Venturi. Oil on Canvas. 18″ x 18.25."