"The businessman, the banker, the artist, or whoever he is who puts up the money wants to be assured, and therefore, we all argue about what 'they' want….The public does not stand at the box-office and say: 'We want a drama after this pattern….' Quite frankly, I do not believe the public knows what it wants." – Charles Chaplin
"Life is a beautiful magnificent thing, even to a jellyfish." – Charles Chaplin. The photo was taken in 1910, on his first trip to the United States.
The Tango Tangle (1914)
"I am not a bit funny, really." — Charles Chaplin
Quote: E.V. Whitcomb (1915)
"When I am not working, I just sit around and dream mostly. I get a lot of ideas that way. And sometimes, when I haven't any special idea in mind, the cameraman and a few of us with our makeup on, go out to a location. For instance, we go out to the races, take a few scenes (whatever happens to suggest themselves), then other things suggest themselves until the story is built. All the time this is going forward things pop into my head which helps to make people laugh." — Charles Chaplin
Quote: E.V. Whitcomb (1915)
Photo: A Day at the Races (1914)
A 1915 Charlie Chaplin walking toy from Germany. It's made of papier-mache, fabric, and tin.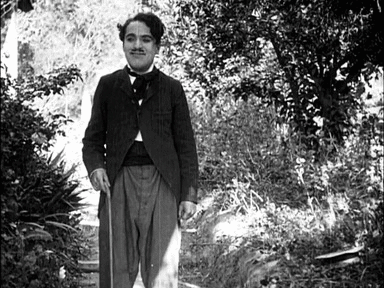 "It is because of my music-hall training and experiences that I am by force of habit inclined to work into my act little threads of vulgarisms – not to hurt anyone, but, in my opinion, and from an artist's point of view, enough to render the picture vociferous and inartistic. This Elizabethan style of humor, this crude form of farce and slapstick comedy that I employed in my work was due entirely to my early environment, and I am now trying to steer clear from this sort of humor and adapt myself to a more subtle and finer shade of acting." — Charles Chaplin
Source: J.B. Hirsch (1915)
A paper cut out from Motion Picture Magazine in the 1910s.
"Vaguely, I imagined that someday I might be a big musician, and then one evening I accidentally met Mr. Chaplin through a mutual friend. Mr. Chaplin asked me if I would like to act in pictures with him. I laughed at the idea but agreed to try it. I never thought I would ever go through with another after that first picture. I want to tell you that I suffered untold agonies. Eyes seemed to be everywhere. I was simply frightened to death. But Mr. Chaplin had unlimited patience in directing me and teaching me. I learned everything I knew from him." — Edna Purviance 
"I've been clowning ever since I was a kid, and it seems as though the ability for that sort of thing was just naturally born in me. I guess it's really a matter of getting into the spirit of your work and letting yourself go." — Charles Chaplin
Source: Robert Francis Moore (1917)
Newspapers boasted that Douglas Fairbanks and Charlie Chaplin earned $1,000,000 apiece in 1917. In this graphic, Photoplay Magazine lists Mary Pickford as earning $500,000. Other sources, however, claimed that she, too, earned $1,000,000 that year.
"It was for naught that Douglas that captured the imagination and love of the public. The spirit of his pictures, their optimism, and infallibility, were very much to the American taste, and indeed to the taste of the whole world. He had extraordinary magnetism and charm and a genuine boyish enthusiasm which he conveyed to the public. As I began to know him intimately I found him disarmingly honest because he admitted that he enjoyed being a snob and that successful people had allure for him." — Charles Chaplin on his friend Douglas Fairbanks.
Photo: 1917 at Chaplin's studio. It was a gag photo of them saying good-bye to one another before Fairbanks left for the East Coast to make a movie.
"Why, of course, there are several tricks for breaking stage-falls, which are of great service in this game. I use my neck and shoulders as bumpers. By turning my head in the jar, all comes on my shoulder blades, but, of course, it looks on the screen as though I were fracturing my skull. Then, also, if I have to be struck from the front, and fall backward, I throw my right leg forward and up. This pulls my left leg with it, and I land on my neck. Your hands are a big asset, too. But you mustn't let the camera see you use them. When I fall forward, I break the force with the palms of my hands and with my chest. The principal thing to remember is to make the tumble seem spontaneous and look natural, not studied." — Charles Chaplin
Source: Robert Francis Moore (1917)
"I like people. But I like them only when they're perfectly natural, and they let me be perfectly natural. As I grow older, I try to keep closer and closer to the ground, for most endeavors are so futile, so little of what any of us do really counts for anything." — Charles Chaplin in an interview he gave over dinner at the Alexandria Hotel's Indian Grill in 1918.
"Personally, Mr. Chaplin is a very wonderful man. He does all kinds of good with his money, but as quietly as possible. He simply pours thousands of dollars into England to help the war along. He says if he is called to serve actively, he will go. But, oh, it seems to me as if he can do so much more good right here where he is! Not only can he help by furnishing an unusual amount of money, but he can bring joy, freedom from care, into the hearts of the people, and that is a greatly needed item in war days, let me tell you." — Edna Purviance
Source: Hazel Simpson Naylor (1918)
Shoulder Arms (1918)
Douglas Fairbanks, Mary Pickford, and Chaplin are about to embark on a hugely successful Liberty Bond Tour tour in 1918.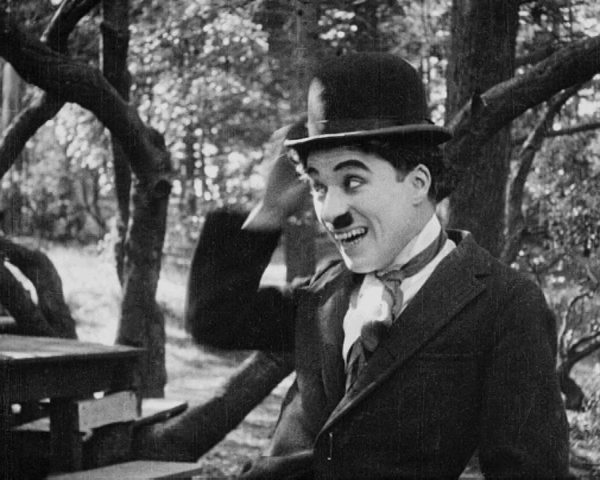 "Mr. Chaplin has some wonderful stories for our next comedies. He just works them out in his head, you know, but has told several of them to me, and they are greater than anything we have ever done – less slapstick – and we are going to do three-reelers now, which will give him a better opportunity." — Edna Purviance
Source: Hazel Simpson Naylor (1918)
A Dog's Life (1918). With Edna Purviance.
An early color photographic experiment called Autochrome was taken at his studio in 1918. Photographer: Charles C. Zoller
To see more pics from this series, click here!
With Harry Houdini.
"I do not have much patience with a thing of beauty that must be explained to be understood. If it does need additional interpretation by someone other than the creator, then I question whether it has fulfilled its purpose." — Charles Chaplin
With fellow comedy legend Max Linder.
Charles Chaplin, John Barrymore and Douglas Fairbanks posing for a gag photo in 1924.
If you don't recognize the Ambassador Hotel offhand, it is the French room redecorated to resemble a Parisian Cafe.
The occasion was a welcome home party thrown for Marion Davies after she returned from a three-month trip to Europe. The year is 1928.
Standing, left to right, Lorraine Eddy, Matt Moore, Aileen Pringle, Louis B. Mayer, Gloria Swanson, Harry D'Arrast, Marion Davies, Louella Parsons, Ricardo Cortez, Charles Chaplin, Norma Shearer, Irving Thalberg, Harold Lloyd, and Robert Z. Leonard. Seated in the foreground are Harry Crocker, left, and William Haines.
The Hollywood Pantages Theatre opened June 5, 1930, with the premiere of The Floradora Girl, starring Marion Davies. Here she is with Chaplin. In the bottom photo, they are joined by character actor Walter Catlett. The master of ceremonies (inside the theatre) was Eddie Cantor.
Edwin Shallert of the Los Angeles Times wrote:
"Crowds throng the streets as only crowds can when the show is programmed to have all the stars present. The huge lobby of the new theater was ablaze with lights. The radio hummed with the introductions of the sparklers of cinemaland, and their brief comments. Fashion and display prevailed as only fashion and display can prevail when a new theater for pictures is to be dedicated."
Its builder, Alexander Pantages, who faced charges for the alleged rape of a showgirl, spent the night in the Los Angeles County Jail, listening to the premiere broadcast from a hospital cot.
"I've watched the talking picture situation since it began. Talkies have had a tremendous vogue but I believe their popularity is waning. The box-office statements sustain me in this. Only one out of every fifteen productions have been accepted by the public." — Charles Chaplin
Source: Speed Kendall (1931)
Photo: City Lights (1931)
"I have never been able to say much good about Chaplin, so I haven't said much period. He was hard on me, and I was his prisoner for two years. He was always out playing tennis, while I was never allowed to leave the studio. Then, too, I always felt he was disloyal, first to England and then to America. Now when I see City Lights all I can think of is what a friend of mine said: 'It looks as if your hair was put on with a biscuit cutter!'" — Virginia Cherrill
Source: James Watters (1984)
Photo: City Lights (1931). With Virginia Cherrill.
Artist: possibly Charles Chaplin. Ink and color pencil sketch. 3.25" x 5.25." Chaplin autographed and dated his likeness in "19-34."
Franklin Ardell, Norma Shearer, Paulette Goddard, and Charles Chaplin pose for a photo on Joe Schenk's yacht at Catalina Island on September 27, 1934.
"She has every quality I am seeking. Youth, abundant vitality, and, above all else, freshness. How I hope she can act!" — Charles Chaplin
Source: 1936
Photo: Modern Times (1936)
"At his best, and Chaplin remained at his best for a long time, he was the greatest comedian that ever lived." — Buster Keaton
Source: 1960
Photo: Limelight (1952)
One of the most unconvincing Chaplin likenesses ever.  Retired from the Hollywood Wax Museum
Estimated value $2,000 – $3,000.
The Tramp character's authentic hat and cane.
Haunted by History, Vol. 1 (First Edition Soft Cover) – Brand New!!!