"V stands for Vampire, and it stands for Vengeance. The vampire I play is the vengeance of my sex upon its exploiters. You see, I have the face of a vampire, perhaps, but the heart of a feministe." — Theda Bara
Source: Virgins, Vamps, and Flappers by Sumiko Higashi
Photo: 1917
"Every mother, every minister, every sane person with the well-being of the younger element at heart owes me some gratitude for what I have accomplished thru pictures. Every picture in which I have appeared has a clear and understandable moral." — Theda Bara
Source: 1914
"To pillory me for trying earnestly, thru my pictures, to make sin and wrong-doing a thing to be shunned and avoided presents an inconsistency which I am unable to fathom." — Theda Bara
Source: 1914
 "I have just as high a mission in pictures, as the best of your evangelists and the most beloved of your local ministers. Thru the silent but expressive medium of the Motion Picture I am saving hundreds of girls from social degradation and wrong-doing. I believe I am showing time and time the unhappiness – the misery which falls to the lot of men transgressors, and the contempt and hatred which such people inspire in good society and among the well-behaved people of the world. Furthermore, I am reaching one million persons each day – a larger audience than was ever had before by any man or woman in the world's history." — Theda Bara
Source: 1914
Photo: A Fool There Was (1914)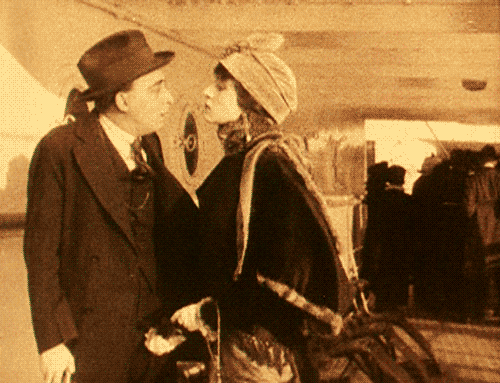 "I like screen dramas because of its immense opportunities to depict life, and it seems to me that the more phases of life one is able to show, so much finer becomes the play. I am terribly earnest about my parts. They exhaust me frightfully. After some scenes, I cannot stand. Do you remember the scene in 'The Clemenceau Case' in which I am fatally stabbed? I frightened Mr. Shay almost to death that day. I gave a terrible scream and sank back – Mr. Shay thought he had really stabbed me; Mr. Brennon came running; even the cameraman was certain that I had been hurt." — Theda Bara
Source: Wallace Franklin (1915)
Photo: The Clemenceau Case (1915)
"My cameraman is my artistic speedometer. If he likes a scene I know it is good; if he shakes his head – sometimes I cry a little because I am so tired, but I always do a retake." — Theda Bara
Source: Wallace Franklin (1915)
"Do I like being a professional? – Oh, please, please don't call me a 'Vampire!' Yes and no. I believe that I am inherently an actress, and I like the adventuress because she has color and intensity. Do you understand? I can make something out of her; she stands forth vivid and living; she is the only human sort of woman the American public wants; they must have colorless heroines, or sugary-sweet heroines, playing white little love stories. Understand me – I'm not saying that American women are like that; they are warm, wonderful vital things, but people seem to want heroines and not women. Therefore I choose to play wicked women because when photoplay women are good and real they often cease to be women. Isn't that odd?" — Theda Bara
Source: Wallace Franklin (1915)
"I am playing a part in 'The Two Orphans' just to show that I can be good, but I wish, to the uttermost depths of my soul, for a part in which I'd neither be an incarnation of evil, as I am now, not an incarnation of holiness. I want to play a kind-hearted, lovable, human woman. Won't someone write me such a part?" — Theda Bara
Source: Wallace Franklin (1915)
"Do I believe in 'eternal love?' As an ideal, yes; as a reality, no. To search for love is to chase the rainbow; yet, knowing this, do we ever give up the chase? Perhaps there are some few especially favored of the Gods who experience it, but if so, I've never been invited for even a short visit to their Olympus." – Theda Bara
Source: Wallace Franklin (1915)
"I shan't live very long. I find life so wonderful and so varied that I burn myself up always thinking, thinking, thinking. Soon after I should be thirty, I think you will have Theda's pictures, but no Theda." – Theda Bara in 1915, explaining how occult readings had foreseen her early death. Of course, by the time Theda Bara (real name Theodosia Goodman) made this comment, she had already turned thirty. 
Source: Wallace Franklin (1915)
"I'm indolent; I'd rather lie in a hammock, or on my couch, and read. Reading is my master-passion; music, I think, my second love." — Theda Bara
Source: Wallace Franklin (1915)
Photo: St. Elmo Boyce
"Isn't it strange that I'm so in love with life and everybody alive that I'm only able to incarnate myself on the screen as an embodiment of hate and evil?" — Theda Bara
Source: Wallace Franklin (1915)
Theda Bara poses with Belva, her Russian Greyhound, in New York City in 1916. The dog died a year later.
Photographer: Witzel (1917)
The Rose of Blood (1917), a lost film.
"The reason good women like me and flock to my pictures is that there is a little bit of vampire instinct in every woman." — Theda Bara
Cleopatra (1917)
"If the average girl only knew the sacrifices necessary to attain success in motion pictures, she would carefully consider before electing screen-acting as her life's work. The demands made on the time of the motion picture actress are far greater than those made on the time of the woman engaged in the pursuit of any other art. If she aspires merely to reveal her own personality on the screen, it is best that she remain among her friends who probably will appreciate her more than the average motion picture audience." — Theda Bara
Source: 1917
Photo: Witzel for Cleopatra (1917)
"Of course, the age was a very superficial one, and I think Louis XV was very tired of the artificial beauties of his court, and that it was the spontaneity and fresh naturalness of DuBarry that charmed him. I have therefore worked out the character, following out that note, and I hope the public will like me in it." — Theda Bara on her role as Madame DuBarry (1917)
Source: Grace Kingsley (1917)
"I'm glad to get a rest once in a while. Some people think making pictures is just play, but it is real work." — Theda Bara
Source: Editor' Column for the Columbus Weekly Advocate (1918)
Photo: Salome (1918)
Salome (1918) film advertisement.
"During the rest of my screen career, I am going to continue doing vampires as long as people sin. For I believe that humanity needs the moral lesson and it needs it in repeatedly larger doses." — Theda Bara in 1917.
Photo: 1918
"You know, I cannot see — at least I cannot see as other people see. To me, the world is just a misty blend of beautiful colors. I see everything as Whistler saw it, or, at least, as he loved to have us see it. No outline is distinct, and I am happier, for I cannot see the defects." — Theda Bara in 1917.
Photo: Salome (1918)
"[A star] should dress beautifully at all times….She must live her dreams for them and remain a figure of mystery." – Theda Bara
Photo: Salome (1918)
When a Woman Sins (1918), a lost film.
"NOT DEAD" – THEDA BARA
The Times is in receipt of the following illuminating telegram from Theda Bara, variously reported crippled, blinded, and dead:
NEW YORK, Jan. 10 – [To the Editor of the Los Angeles Times, Los Angeles:] Because of the rumors which have come to me here in New York affecting my vital interest, I have made the following affidavit, which I ask you to publish:
"Theda Bara, being duly sworn, deposes and says: I am informed by W.R. Shehan, general manager of the Fox Film Corporation, who is now in Los Angeles, that there is current in that city a grossly-exaggerated, mournfully-inadequate report that I have died, said report doing me a grave injustice. Of course, I have died many times, and my friends are kind enough to say with some exhibition of art, I died in 'Salome,' though the Roman soldiers were responsible for my taking off were a bit rough. In 'Cleopatra' I died one of my very best deaths by the bite of an asp. In the Clemenceau case, a serpent ended my career. I am preparing now for a new death as a princess of a South Sea Island. I am looking forward to this death with a great deal of pleasure. It will be a new variety, but even the South Sea island has not the attraction for me that California has, and I expect to return to Los Angeles soon to live and to die the host of deaths which I hope still await me in my career. I want to assure my friends in California that I have been living this diet of professional death without losing weight and that in private life, I am as healthy and as happy as anyone can be away from California.
[Signed] THEDA BARA
"Subscribed and sworn to before this 9th day of January 1919, Russell G. Holtman, notary public"
Thanking you for your co-operation in settling of rest these unpleasant rumors, I am
[Signed] THEDA BARA
"This is the best role I ever had. There isn't the slightest trace of the vampire in Kathleen, so you see I have kept my promise about the type of heroine I'd portray when I was ready to forsake the ladies of highly emotional proclivities. How I did delight in that quaint little Irish girl. I adopted her heart and soul. She permitted me to take down my hair…I no longer had to glide into a ro
om and begin working the wiles of a trade as old as the call of sex. I could run and jump and skip and be happy." — Theda Bara, promoting her 1919 film, Kathleen Mavourneen, while trying to distance herself from her vamp persona. 
"My final pictures for Fox were frightful. But, remember, please that I made forty pictures in four years and a half. Quality and quantity are seldom twins on the best of relations." — Theda Bara
Source: Myrtle Gephart (1925)
Photo: Witzel
"Those legends designed to make me mysterious in the public eye were inventions – and my own. I wish they would stop giving the press agents credit for their fabrication. Realizing that I represented a public symbol of exotic and mystic wickedness, I worried myself into headaches concocting stories to perpetuate that illusion. However, imaginative glamour though all that was, I did live in a dream world which was far more genuine to me than the realities. Music, books, contact with very strong individualities, with minds seeking the truth of human problems, psychological study – these made up my life, singularly unlike the average girl's." — Theda Bara
Source: 1925
"Marriage was a jar in that it awakened me from my self-absorption, brought into my vision the actualities that I had ignored, preferring to think that I belonged upon a mental plane. I came out of my trance. And I have had hours of bitterness when my efforts to return to pictures met snags. Criticism I had regarded as publicity, but the unfair treatment to which I was subjected when I made unwise contractual connections put me in the dumps." — Theda Bara
Source: 1925
Photo: 1924