"It's kind of tragic sometimes to be a comic….in an age of wholesale laughter." — Buster Keaton
Source: Martin Regan (1930)
Photo: Ruth Harriett Louise
The Bell Boy (1918). Stars Roscoe "Fatty" Arbuckle.
Buster Keaton Comedies advertisement, c. 1920.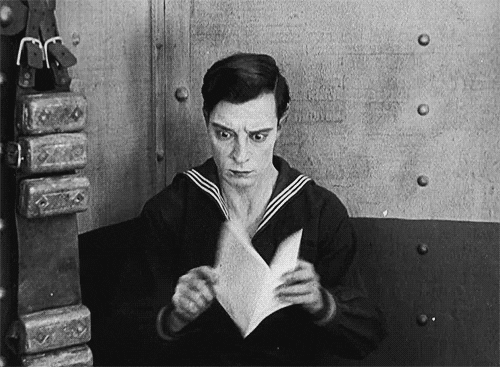 The Love Nest (1923)
"I've had few dull moments and not too many sad and defeated ones…" — Buster Keaton
Source: 1960
"Not long ago a friend asked me what was the greatest pleasure I got from spending my whole life as an actor. There have been so many that I had to think about that for a moment. Then I said, 'Like everyone else, I like to be with a happy crowd.'" — Buster Keaton 
"A comedian does funny things. A good comedian does things funny." — Buster Keaton 
Photo: Sherlock Jr. (1924)
Keaton with World Middleweight Champion, Mickey Walker, on the set of Battling Butler (1926).
"He has the sweetest smile on the lot. But I suppose it's right about it being better business to remain smile-less. It's a duck of a picture, and Buster is so cute. Wasn't it a marvelous idea to exploit the news-reel man as a hero? There's a lot of clever touches in it, too." — Marceline Day
Source: Alma Whitacker (1928)
Photo: The Cameraman (1928)
"I don't feel qualified to talk about my work." – Buster Keaton in 1964.
Source: Keaton by Tom Dardis.
Photo: The Cameraman (1928)
"The trouble in 1928 was that I did not have enough 'picture money' to be completely independent and make only the kind of picture I wanted to make. I never had, as a producer, that complete financial independence." — Buster Keaton
With Cliff Edwards ("Ukulele Ike") on the M-G-M lot in 1931.
"Life is too serious to do farce comedy." — Buster Keaton
With Stan Laurel, Oliver Hardy and Jimmy Durante.
Buster Keaton and Jimmy Durante, taken in 1932, towards the end of their brief comedy team. Keaton had become a major alcoholic and was on the verge of being fired from MGM.
The two stars never really got along, although they never openly feuded. Keaton felt that MGM was grooming Durante for better things, plus he disliked Durante's constant punches in the arms and chest while playing to the camera. Durante, on the other hand, was aloof, not really fraternizing with the cast.
When this photo was taken, Durante was about to start on a film called Pig Boats, which would later be renamed Hell Below. MGM kept quiet about future projects for Keaton.
"No man is really funny unless he moves funny." – Buster Keaton
Source: James Bacon (1965)
Keaton watches as Mary Pickford throws the first pitch to Jim Thorpe at the annual motion picture charity baseball game at Wrigley Field in South Los Angeles. Date: July 30, 1938.
"He taught me most of what I know about timing, how to fall and how to handle props and animals." – Lucille Ball
At Knott's Berry Farm in 1956.
On the set of The Buster Keaton Story (1957). Keaton worked as a technical consultant to coach its star Donald O'Connor on how to recreate many famous gags. As Keaton biographer, Tom Dardis said, "O'Connor tried hard, but it was impossible for anyone to portray Keaton's movements." Although he liked O'Connor, he was embarrassed by the biopic, mostly due to its inaccuracy. Keaton's wife, Eleanor later said that after seeing it for the first time at the premiere, "My stomach turned over, it was so awful!" 
All was not lost. Keaton was paid $60,000 for the rights to his life story. This enabled him to buy a house at 22612 Sylvan Street in Woodland Hills.
Source: Keaton by Tom Dardis.
Jay North (TV's "Dennis the Menace"), Sam ("The Shaggy Dog"), and Buster Keaton on a merry-go-round at the Valley Youth Festival at 17400 Victory Blvd., circa June 1960. (LAPL 00031300)
"All my life I have been happiest when the folks watching me said to each other, 'Look at the poor dope, will ya?'" — Buster Keaton
At the Movieland Wax Museum in Buena Park, California, in 1964. (LAPL)
Keaton tribute at the (closed) Movieland Wax Museum in Buena Park.
Keaton making a May 1965 celebrity appearance at the Agoura Speedway. The charity event was sponsored by the Kiwanis Club of Woodland Hills and the San Fernando Valley Kart Club. The man issuing the citation is bandleader/musician Gus Bivona, who used to play sidekick to Steve Allen on television. (LAPL 00093476)
LOBSTER JOSEPH RECIPE
Lobster Joseph was supposed to be Buster's all-time favorite dish. He apparently liked it with small boiled potatoes, sourdough bread (for dunking) and a green salad:
Lobster Joseph
Ingredients:
1 pint sour cream
1 square butter, 1/4 pound
2 30-ounce cans solid pack tomatoes (unseasoned) 1 teaspoon salt
1/4 teaspoon pepper
4 medium lobsters (cooked)
1 ounce brandy
2 ounces sweet sherry
Directions:
Melt butter. Blend in sour cream, add tomatoes (putting aside tomato juice). Combine sherry and brandy in a separate pan. Burn out most of the alcohol and add to sauce. Add tomato juice as needed to desired consistency. Cut lobster into bite-size and heat in the sauce.
Fish fillets can be substituted for lobster. Melt butter and quickly saute 1 pound fillets (sole is good). Remove to warm dish. Do not overcook. Add well-drained tomatoes to the remaining butter, mixing and chopping with a spoon. Add salt and pepper. When the tomato-butter mixture is hot (but not boiling) mix in sour cream, a bit at a time. Add brandy and sherry, or white port. Mix well.
Source is directly taken from Buster Keaton: Cut to the Chase by Marion Meade
Emmanuel Snitkovsky's Buster Keaton statue, which depicts a 5'6″ bronze Keaton standing behind an early motion picture camera, once stood in front of the Hollywood Entertainment Museum on Hollywood Boulevard from 1996 to 2006. Snitkovsky's statue of Charlie Chaplin stood close by.
After the museum closed its location, it sold the statue for $22,000 to the Community Foundation for Muskegon County, who then placed it near The Frauenthal Center for the Performing Arts in Muskegon, MI.