"I like courage. I hope I have it. I want and I try to be honest. Perhaps I don't always succeed. But I try…I am like that." — Jean Harlow.
Source: Helen Louise Walker (1934)
Photo: George Hurrell (1934)
"We can learn to value the sunlight on a clear day, the feel of the wind on our faces as we drive along, flowers, music, friends. That isn't perfect happiness, of course, but we were not meant to have perfect happiness. We must always compromise with life." — Jean Harlow
Source: Laura Benham (1930)
Photo: Edwin Bower Hesser (1929)
At Griffith Park.
Photo: Edwin Bower Hesser (1929)
"We used to storm the gates and walk miles to the studio, and have all kinds of trouble getting our checks cashed….Assistant directors have to be polite. Boy, what a difference!" — Jean Harlow discussing her days as a film extra and bit player.
Source: 1936
"I am not beautiful. My hair is my best feature." — Jean Harlow
Source: David P. Sentner (1930)
"One day a cameraman remarked that my hair was the lightest he had ever photographed. My skin is very fair and my hair is naturally the lightest of light blondes. He stated that if my hair were a shade or so lighter it would photograph perfectly white and would possess a sheen and color unique to the screen. After discussing the subject with him, I wondered why no other blonde actress had realized this wonderful possibility offered by the black and white contrast of the movies. After thinking the matter over, I went to a beauty expert and explained my problem. I was fortunate in having hair so blonde naturally that it did not have to be bleached. The expert immediately recommended the platinum rinse. It is my understanding that blonde hair usually has to be bleached before the platinum rinse may be applied." — Jean Harlow in 1931
"I used to bleach her hair and make it 'platinum blonde. We used peroxide, ammonia, Clorox, and Lux flakes! Can you believe that?" — Alfred Pagano, her hairstylist.
Source: "The Original 'Blonde Bombshell' Used Actual Bleach on Her Head" by Taylor Orci (2013)
Photographer: George Hurrell (1930)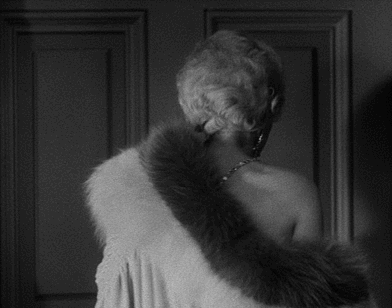 "While working in Hell's Angels many people commented on the color of my hair – or rather it's lack of color – and after the picture was released I received hundreds of letters asking how my hair had become so white. When I found the question in almost every fan letter I realized that I had started a fad." — Jean Harlow in 1931
"You have to be hard-boiled to get through life whether you're a shopgirl, a debutante, or a movie star." — Jean Harlow
Source: Ama Barker (1932)
Photo: 1931
"Underwear makes me uncomfortable and besides my parts have to breathe." — Jean Harlow
"You know, she never wore underclothes and she was walking past the guys on The Public Enemy one day and James Cagney said, 'How do you hold those things up?' and she said, 'I ice them.' And she was very serious." — Joan Blondell
Photo: The Public Enemy (1931). With James Cagney.
"I have no time for anything but work. I get up at 5:30 in the morning when I'm on a picture and get so tired that I fall into bed at 9:00 in the evening. Of course, I like the parties and sports that other girls like but I have no time for them. I love the movies and go to one every chance I get." — Jean Harlow
Source: 1931
Jean Harlow's M-G-M dressing room. Photo by Clarence Sinclair Bull.
Red Dust (1932). With Clark Gable.
Red Headed Woman (1932), an Austrian version of the poster.
"I never was wildly in love with him, but I appreciated his kindness and I liked him because he was one of the few men in Hollywood I could go with, without having a pass made at me." – Jean Harlow talking about her second husband Paul Bern. At least, that was what she was alleged to have said privately to a writer (initials J.C.M.) in 1933, after his suicide.
Photographer: George Hurrell
Jean Harlow Christens First Brewery Wagon
LOS ANGELES, April 7, 1933 (UPI) – Trucks and brewery wagons extending in line for nearly a mile, scores of Hollywood motion picture stars and a joyous crowd of 5,000 welcomed beer's official return here today.
Jean Harlow, beautiful blond screen actress, christened the first brewery wagon in the long procession on the stroke of midnight and amid the cheers and whoops of happy men and women.
"Gold old days are here again," Walter Huston, screen actor, shouted, adding, "beer, beer for all!"
With director Victor Fleming and co-star Lee Tracy on the set of Bombshell (1933).
On the set of Bombshell (1933).
With her mother and Hal Roach at the premiere of Dinner at Eight (1933).
"Nobody ever takes anybody's place on the screen. Stars are stars because they are distinct and startling personalities." – Jean Harlow in 1933.
Photographer: George Hurrell
"Harlow was not frightened of the camera; she reacted to it, and in some strange way, I was the third party – THEY were the conspirators." – George Hurrell, MGM chief photographer
"For goodness sake! Can't I get credit for anything except a wild head of hair and a low-cut dress?" – Jean Harlow
"She tried to compensate herself with the assurance that at least her eyebrows conformed to the Hollywood convention. Of course, it had been something of an effort to shave the brows cleanly off this morning, and to pencil the thin, highly-arched arcs of unreality in place of silky ash-blond hairs. She had postponed this for almost a year. It did not, however, give the complete effect. She must have artificial lashes. Her own lashes, upper and lower, were adequate, even abundant, but they were real and hence marked her as one of the rank and file." — an alleged excerpt from a story written by Jean Harlow
Source: Grace Wilcox (1935)
"I'm not a hot mama at all. Some of my motion picture roles have showed me that way, particularly 'Hell's Angels,' and 'Hold Your Man.' But in reality other actresses have been consistently much more sexy than I in the parts they have played." – Jean Harlow
"The phase of my roles which fans have confused with sexiness is the display of my figure, which the studio seemed to think my roles called for." — Jean Harlow
Source: George Shaffer (1934)
Photo: George Hurrell (1932)
"Sex Appeal, of 'S.A.', as it is known professionally, is important. If one has no magnetism, naturally a coldness is apparent on the screen. The response from the audience is likewise cold. The same thing is true in real life. If one is without charm or fascination, beauty wins only half the battle." — Jean Harlow
Source: Edith Dietz (1934)
Photo: 1934
Artist: Zornow: Date: N/A; oil; 12 x 16 inches.
"Life goes on at a furious tempo in Hollywood. It is futile to outline a future for myself. I have tried and it didn't work. Now I am allowing my future to take care of itself." — Jean Harlow
Source: Edith Dietz (1934)
Photo: Russell Ball (1934)
"I am glad the new trend in pictures is making it possible for me to do differently in the future. It gives me the chance to play the kind of thing I long had preferred to play but did not get the chance. I want to do parts that have light and comedy elements. Now I am going to get the chance to do them." — Jean Harlow
Source: George Shaffer (1934)
Photo: Russell Ball (1934)
"Well, it's not a color – it's white, and everything I prize is just that. All my evening gowns are white; I have a white automobile, a white house furnished in white; a white dog and cat, and I never swim in anything but a white bathing suit." – Jean Harlow in 1934.
Photo: 1935
"When I am working, I must spend hours of each day fussing with my face and hair. A hairdresser touches me up after each shot…I must give half of my lunch hour to my face and hair…and when I go home to bed I must have a masseuse…and the hairdresser to set the wave. Even on Saturday night, I must not stay up after eleven because I know that I must spend eight hours in the beauty shop on Sunday. Do you wonder that when I am between pictures I can't bear to look at myself in the mirror?" — Jean Harlow
Source: Helen Louise Walker (1935)
"You ask me what I believe Jean Harlow possesses that has made her an international celebrity where thousands of other pretty girls remain in obscurity. I can answer that in one word: personality." — Director Jack Dawn in 1935
Photo: 1935
"I realize that I am as good and no better than my last story and director. I know how perfectly horrible I was at first. No one knows it better than I. If I had any latent talent, I have had to work hard, listen carefully, do things over and over and then over again in order to bring it out. I know how much I have had to learn and also I know how much I have yet to learn. I was not a 'born' actress. I can only hope that I may deserve to be called one when I die." — Jean Harlow.
Six months later, she was dead.
Source: Caroline S. Hoyt (1937)
Photo: George Hurrell (1936)
Photo: Ted Allen (1936)
With William Powell at the Cocoanut Grove in 1936.
"She didn't want to be famous. She wanted to be happy." — Clark Gable
Photographer: Durward Graybill (1937)
Artist: S. Miera. This pencil and chalk likeness of was taken from one of her portrait sittings with George Hurrell. 16 ¼ in. x 26 in.on Starke German illustration paper. Circa 1960s.