"Start every day with a smile, and get it over with." — W.C. Fields
Photo: Poppy (1936)
An early caricature for the Brown Derby Restaurant.
"The world is getting to be such a dangerous place, a man is lucky to get out of it alive." — W.C. Fields.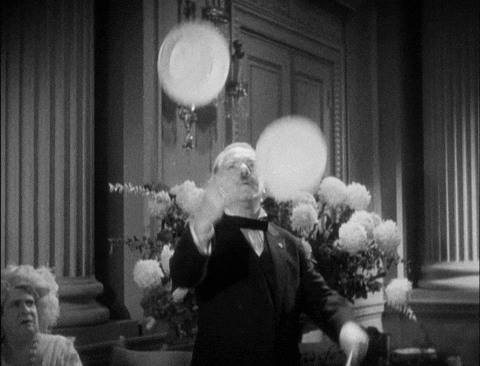 "I'm beginning to understand those animals you read about, where the mother has got to hide the young so the father won't eat them." — W.C. Fields
"A comedian is best when he's hungry! Paradoxically, to understand humor, to know what laughs are made of, one must suffer. Every laugh is built on heartaches, sometimes tears. Funny, isn't it?" — W.C. Fields
Source: Maude Cheatham (1935)
A caricature from the Los Angeles' Ambassador Hotel's Field & Turf Club.
Animation cel drawing of W.C. Fields from "Mother Goose Goes Hollywood" (1938) Disney Studios.
"You know, I never wanted to do that picture because I didn't want to team with anybody – especially W.C. Fields. I didn't want people thinking of us as 'Mae West and W.C. Fields.' I finally agreed to do it, but I said, 'If Fields drinks during production, I won't shoot with him.' Of course, I did, even though he'd come in drunk – really, only half-drunk. The rest, he pretended, to get attention." – Mae West
Source: Andee Beck (1976)
Photo: My Little Chickadee (1939). With Mae West.
"Bill Fields played a pretentious, braggadocio character, but the audience knew it was only pretense." — Bert Lahr
Source: A.S. Kany
"Hell, I never vote for anybody. I always vote against." — W.C. Fields.
Legendary director Cecil B. DeMille was so well-known for inserting bathtub scenes in his major films that it became kind of an inside joke around Hollywood.
The following is supposed to be a true story:
During World War II, DeMille and W.C. Fields were neighbors. DeMille's home was located on a ledge near the top of Laughlin Park hill sector. Fields lived in a home further down the hill in Laughlin Park (now known as 2015 DeMille Drive).
Neither one liked each other very much and they rarely spoke. In fact, Fields supposedly despised DeMille.
One night a blackout was called. DeMille noticed that Fields had his lights burning inside his house, so he dressed and personally marched down the hill and rapped loudly on Fields' door.
Fields, who had been drinking heavily, answered.
"I'm Cecil B. DeMille. There's a blackout on!"
"A what?"
"Don't you know we're having a blackout?"
"A blackout!"
"Yes, Mr. Fields, a blackout. Turn off your lights and fill your bathtub!"
"My God, Cece! Can't we have a blackout without one of your damn bathtub scenes?"