"I have good-looking legs so why shouldn't I show them? And anyway I'm an extremist by nature. When girls are wearing short skirts as they are now I want mine still shorter. Of course, I'm in favor of short skirts or any other kind of a costume which gives me an opportunity to show off my legs." — Alice White in 1929.
"I was told that I looked like Clara Bow, only I had more depth if you please, and much more emotion. The Paramount executives were then wrangling over a contract with Clara, and wanted me as an ace in the hole, a red-headed threat against my sister red-head." — Alice White 
Al Jolson welcomes Alice White to First National Pictures in 1929 in an obviously contrived photo op.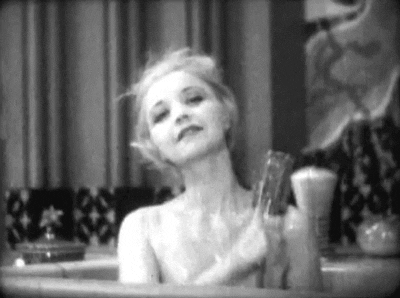 "We think we are so important, and that the whole world is watching us. I have been making personal appearances in little towns all over the country. I learned that people outside of Hollywood live and are happy. If some of these players who think the whole world rotates around them could get the reaction of people in little towns they would soon forget to be conceited." –Alice White
Source: Louella Parsons (1932)
Show Girl in Hollywood (1930)
"It's a grand business. I've no illusions about it, yet with each picture, even the old stuff rehashed, I always pep up and am happy, just to be working again. But one of these days, I'll get another kind of part. I'll do the things I've been wanting to do for years and I sincerely hope people who think now that I'm just a flapper will change their minds. And, of course, I hope the ones who like my flappers will like the new style, too." — Alice White
Source: Cathryn Hoffman (1930)
'
"Hollywood ideas are not the ideas of the world. Pictures we like are not always popular in small towns. Pictures we consider banal and stupid are often the biggest moneymakers." – Alice White 
Source: Louella Parsons (1932)
"I think it's a compliment to be called 'high-hat!' It doesn't get you anywhere to be always the life of the party. People think you're just noisy." – Alice White in 1933.
"I think the jazz age is over because producers don't ask me to play loose-baby, gangster-moll or hotcha-girl roles; they give me more sedate characters to do, and the screen is the greatest barometer of modern life." – Alice White in 1934.
Outside of the Vine Street Brown Derby.