When the Beatles first arrived in Los Angeles on August 18,1964, they were exhausted from a long flight from Great Britain. The Fab Four were supposed to have arrive in Burbank to clear customs. They had also planned to spend the night at the Ambassador Hotel before flying to San Francisco the following day to start their first North American tour. However, news of their arrival leaked to local radio stations who broadcasted the Beatles' itinerary to their listeners. Pandemonium ensued, and Burbank's Lockheed Airport (today's Bob Hope Airport) denied the Beatles landing clearance, forcing their plane to land at LAX.
When the Beatles arrived in Los Angeles at 4:15 p.m., they were greeted by approximately 500 screaming fans, who had rushed to the new location after hearing that their flight had been diverted. More bad news followed after the group was informed that the Ambassador Hotel, for security reasons, had cancelled their reservation.
One of the Beatles' press agents became so upset that he quit. In the meantime, manager Brian Epstein and his assistants frantically booked a hotel in San Francisco. The Beatles stayed at LAX for an hour and a half. During that time, the group held a short press conference. When reporters asked John Lennon why they weren't staying longer, he replied, "They don't seem to want us to stay anywhere."
The Beatles performed in San Francisco, returning to Los Angeles a few days later to play the Hollywood Bowl on August 23. According to the Los Angeles Times, "An airport official said…the time and location of the group's landing…would be 'top secret.' They probably will not land at International Airport…but if they do it will be in a highly restricted part of the field."
George Harrison throws a drink at a pesky photographer at the Whiskey-a-Go-Go on August 26, 1964. Sandwiched between Harrison and John Lennon sits Jayne Mansfield. Apparently, the drink missed the photographer but hit Mamie Van Doren sitting nearby…
"There is this period of John which is all pre-Beatles, pre-huge fame, pre-drugs – and it is another John completely – that was always there right until the end. He got much sweeter, too, once he settled in New York. Once he was reunited with Yoko, and they had Sean, he became this sweet personalty again then when he was more comfortable with himself. But the acerbic John is the one we know and love, you know, because he was clever with it, so it was very attractive. But, for me, I have more than a slight affection for the John that I knew then, when we were first writing songs, when we would try and do things the old songwriters had done. I slightly regret the way John's image has formed, and because he died so tragically it has become set in concrete. The acerbic side was there but it was only part of him. He was also such a sweet, lovely man – a really sweet guy. " — Paul McCartney
"We were co-headlining a tour, the Beatles and I. And that was the first big thing in England for them and myself. I enjoyed being being with them. They're great fellows and even today we try to stay in touch." — Roy Orbison
Source: 1967
Photo: 1963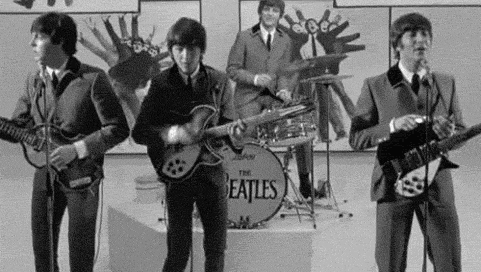 Beatlemania! Fans line up for the premiere of A Hard Day's Night in front of the El Portal Theatre in August 1964. The address is 5269 Lankershim Boulevard in North Hollywood.
(Photographer: George Brich / LAPL 00116975)
A Paul McCartney Halloween costume from 1964.
"We can write hit songs when we're 40. We won't break up, and if we do, we'll still be together in business, one way or another." — John Lennon in 1965.
"The Four Termites," playing at the Sunland Senior Citizens Talent Show in 1965. The Sunland Park Recreation Center is still around at 8651 Foothill Blvd.
The Beatles played Dodgers Stadium on August 28, 1966. It was the group's last public performance in Los Angeles.
"I want the money just to be rich. The only other way of getting it is to be born rich. If you have money, that's power without having to be powerful. I often think that it's all a big conspiracy, that the winners are the government and people like us who've got the money. That joke about keeping the workers ignorant is still true." — John Lennon
Source: Jack Anderson (1966)
Photo: 1965
"I think religion falls flat on its face. All this 'love thy neighbor' but none of them are doing it. How can anybody get themselves into the position of being Pope and accept all the glory and the money and the Mercedes-Benz and that; I could never be Pope until I'd sold my rich gates and my posh hat. I couldn't sit there with all that money on me and believe I was religious. Why can't we bring all this out in the open? Why is there all this stuff about blasphemy? If Christianity's as good as they say it is, it should stand up to a bit of discussion." – George Harrison
Source: Jack Anderson (1966)
Cowboy star Tom Mix is one of the surviving cut-outs used for the Beatles' Sgt. Pepper's Lonely Hearts Club Band album cover. It still existed as late as 2005, when it sold at auction. Here is the original photo by Witzel (far left), the hand-tinted cut-out used for the album cover (middle), and, lastly, its placement within the album cover's collage (right).
George Harrison once leased 1400 N. Blue Jay Way in Los Angeles as his Los Angeles retreat. On August 1, 1967, he was home alone waiting for the Beatles' Publicist Derek Taylor to arrive. Taylor got lost. During the wait, Harrison sat at a Hammond organ and wrote "Blue Jay Way," which was later recorded for the Beatles' 1967 album Magical Mystery Tour.
Paul Simon later leased the house and wrote part of "Bridge Over Troubled Water" there as well.
More info and photos can be found here:
"Weybridge won't do at all. I'm just stopping at it, like a bus stop. Bankers and stockbrokers live there; they can add figures and Weybridge is what they live in and they think it's the end, they really do. I think of it every day — me in my Hansel and Gretel house. I'll take my time; I'll get my real house when I know what I want. You see, there's something else I'm going to do, something I must do — only I don't know what it is. That's why I go round painting and taping and drawing and writing and that, because it may be one of them. All I know is, this isn't it for me." — John Lennon in 1966
Photo: Inside his Weybridge house in 1967.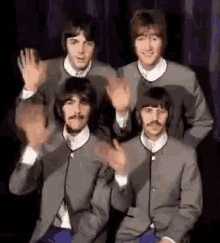 "Getting a job is the hardest part. Producers don't trust me as an actor; they think I'm some sort of rock-and-roller. I'd love to do the kind of things Dustin Hoffman did in 'Midnight Cowboy' and 'Marathon Man,' but they always want me to be a sad clown, some happy-go-lucky weirdo. I'd much rather play a psycho, like the part I played in that spaghetti western where I raped a girl and stabbed her father. That was good for me. I don't need the top of the bill; I just want a job." — Ringo Starr
Source: Guy Flatley (1977)
Photo: Blindman (1972)
"Paul McCartney wrote a song for me five years ago called Let's Love that I thought was a very good song. He's an exceptional melody writer." — Peggy Lee
Source: Terry Lawson (1980)
Photo: Peggy Lee and Paul McCartney in 1974.
"Ras Beatle!" — Bob Marley
George Harrison and Bob Marley backstage at the Roxy Theatre on July 13,1975. The photo was taken by my friend, Kim Gottlieb-Walker. In fact, many of the great photos of Marley in his lifetime were taken by her.
Apparently, John and Yoko were counting on a little help from their friend Ringo to let them into the On the Rox bar/lounge, located above the Roxy Theatre on the Sunset Strip. In order to get into the joint, you had to have a special key. Ringo had one.
"It seems that I must prove myself [as an actor] first, the way I did when I was starting out as a Beatle. They wanted us to play other people's music. 'You don't call them songs, do you?' they said. 'You don't call that thing a band, do you?' We fought the system, and we won. Now I want to be an actor, and I'll just have to keep chugging along until people realize that's exactly what I am." — Ringo Starr 
Source: Guy Flatley (1977)
Photo: 1978
A estimated crowd of 1500 people attended the unveiling of John Lennon's star on the Hollywood Walk of Fame on September 30, 1988. It was a respectful event with crowds breaking into "Give Peace a Chance." For those keeping count, Lennon's was the 1,877th star unveiled in Hollywood. (Photo: 00105410)
"Oh, John would be a Wilbury in a second." – George Harrison 
Source: Tom Petty
"Love one another." — George Harrison's last words before passing away in Los Angeles on November 29, 2001.
Photo: 1992
A John Lennon wax dummy retired from the Hollywood Wax Museum around 2010.