"I had the body of a woman and the mind of a child." – Elizabeth Taylor
Photo: 1951
"I was nine when I made my first films in Hollywood. I was used from the day I was a child, and utilized by the studio. I was promoted for their pockets. I never felt that they were a haven. I've always been very much my own person. I had my own mother and father — they were my family, not the bloody studio."
Source: Jonathan Cott (2011)
"I was rushed into womanhood for the movies. It caused me long moments of unhappiness and doubt."
Photo: Cynthia (1947)
With her poodle "Lord Peewee" in 1947.
"Some of my best leading men have been dogs and horses."
Photo: National Velvet (1944)
"Liz had [sex appeal] even as a young girl when she did a picture called Cynthia with me." — Director Robert Leonard.
Source: Bob Thomas (1953)
Photo: 1947
Photo: 1948
"Elizabeth Taylor will be one of the biggest stars who ever lived." — Director/Producer Mervyn LeRoy in 1949.
Photo: Little Women (1949)
"I never had regimentation because I never went to regular school."
Source: 1987
Photo: LIFE Magazine
"So much to do, so little done, such things to be."
Photographer: Peter Basch
"Elizabeth's view of life was formed, I think, by the Hollywood studios. Then she realized that life was not being written for an MGM screenplay. It was Father of the Bride up to the altar, but after that, well, MGM didn't go in for that sort of film." —  Alexander Walker, author of Elizabeth: The Life of Elizabeth Taylor
Source: Lisa Anderson (1991)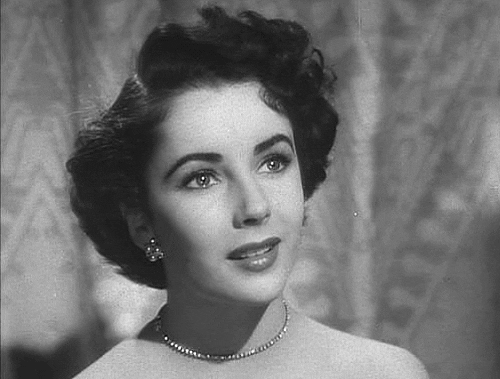 An oil painting. Artist and year: N/A.
"She and Monty spent all their time together. They had a weird relationship and a closeness that was not to be believed. I think they were really in love, but…." — photographer Blaine Waller
Source: 1982
Photo: Candid while shooting A Place in the Sun (1951). With Montgomery Clift.
"I feel very adventurous. There are so many doors to be opened, and I'm not afraid to look behind them."
"We have some things to wind up among ourselves. It seems a shame that we can't meet without people making an epic out of it. All these reconciliation stories are embarrassing. After all, Mr. Hilton is engaged." — Elizabeth Taylor (with Nicholas Conrad Hilton, Jr.)
"She was so remarkable at making us care equally about her personal life as much as we cared about her movies. We got it all with her." — William Mann, author of How to be a Movie Star: Elizabeth Taylor in Hollywood
Photo: With her son Michael in 1953.
"I don't have to act. I'm a star."
Source: Lisa Anderson (1991)
Photo: 1953
"Sometimes I wish I could live up to the things they write about me. What a woman – tres gaie."
"People who know me well, call me Elizabeth. I dislike Liz."
"I think she saw the various husbands to be possessible, like chipmunks, and to be in a serial fashion, like chipmunks. I certainly can't tell one chipmunk from another. And the love test was to place them on the lawn and see if they ran away or would return to her. And of course, in [Richard] Burton's case, he returned to her. And the other lovers were chipmunks, too. Of course, as I say, the lovers come out in better shape than the husbands do. They were lucky in many ways. They profited from the publicity of being linked with Elizabeth Taylor, they didn't lose money, no one appears to have been grievously hurt." — Alexander Walker, author of Elizabeth: The Life of Elizabeth Taylor
Source: Lisa Anderson (1991)
On the set of Giant (1956)
Photographer: Peter Basch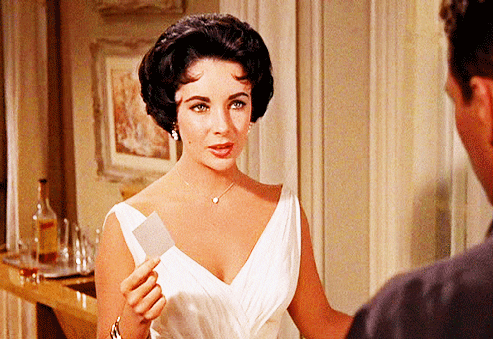 Photographer: Bert Glinn (1959)
"I have made horrendous mistakes in my life, but I cannot blame them on anybody else. We all have to participate in our own downfalls."
"It's the most pornographic script I ever read." — Elizabeth Taylor on Butterfield 8 (1960)
"I don't remember much about Cleopatra. There were a lot of other things going on."
"Marilyn and Liz are of an age to be women, but unfortunately for them and the people around them, they're children….Liz, she's a taker, not a giver. I was raised at the same studio, Metro Goldwyn Mayer, and pampered as much as she was. But I didn't take it for granted, ever…. I think Miss Monroe deserved what she got [being fired from a film]. And Miss Taylor deserves the same but nobody has guts enough to fire her. But she'll get it. Liz can get what Liz wants only so long." — Joan Crawford
Source: Joseph Finnegan (1962)
Photo: Bert Stern (1962). With Eddie Fisher.
One of Taylor's wigs used in Cleopatra (1963).
A vintage Halloween mask of Taylor as Cleopatra, c. 1963.
A life mask.
The Cleopatra wax display, featuring the likenesses of Richard Burton and Taylor, at the defunct Movieland Wax Museum at Buena Park.
"She may have a mouth like a sewer. She may eat and drink like a truck driver, but there she is, like the Statue of Liberty. You've got to love her for that." — Dick Kaplan, Star Magazine editor.
Artist: Chester Bloom. Year: 1972. Color pastel. 24 x 20 inches.
Disclosure: The link below is an affiliate link, meaning, at no additional cost to you, we will earn a commission if you click through and make a purchase. We don't make much — enough to buy a coffee here and there so that we can continue posting cool stuff at all hours of the day and night for your enjoyment.  We also only try to provide recommended products relevant to the post.
"I've been through it all. I'm Mother Courage. I'll be dragging my sable coat behind me into old age."
Quote: LIFE (1969)
Photographer: Herb Ritts (1997)