"I never said, 'I wanted to be alone.' I said, 'I want to be left alone.'" – Greta Garbo
Photo: C.S. Bull (1931)
"I have to thank Mauritz Stiller for everything in this world." — Greta Garbo
Here she is, on her way to the U.S. with her mentor/director in 1925.
The Victorian Miramar Hotel in Santa Monica was Greta Garbo's first residence after she came to Los Angeles. It was demolished in the late 1930s. This is how it looked in 1890.
With USC track coach Dean Cromwell, 1925.

"Every one of us lives his life just once; if we are honest, to live once is enough." – Greta Garbo
Photographer: Ruth Harriet Louise (1926) 
"Here, it is boring, incredibly boring, so boring I can't believe it's true." – Greta Garbo describing her life in Hollywood in 1926.
"I hate vamps. I vant – what you call eet? – sympathy. I vant people to like me!" – Greta Garbo
Source (and accent): Robert Moulton (1926)
Photographer: Ruth Harriet Louise
"When I first entered pictures in America, I was so new to American ways that many things happened to me that seemed tragic then, but seem funny now that I have got used to American customs. I believe that the most tragic thing of all was having to hurry. In Sweden, we take all the time we want. Usually, the leading man is playing on the stage at the same time he is working in pictures, so everyone sits around and waits until he is through with a matinee or rehearsal. But in America, everyone is always busy. Even when the players are not working, they are having photographs made and gowns fitted. I could not get used to that, at first. I wanted to take my time and rest. Now, however, I like to rush and hurry." — Greta Garbo
Photo: At Gay's Lion Farm in El Monte, circa 1926. Photographer: Don Gillum.
FILM PAIR REPORTED ENGAGED
Greta Garbo and Gilbert Both Noncommital But Rumor Says It's So
Los Angeles Times (Sept. 17, 1926) The newest Hollywood romance is between Jack Gilbert and Greta Garbo, both under contract to Metro-Goldwyn-Mayer, according to well-founded rumors going the rounds of the film colony.
Neither Gilbert nor Miss Garbo would deny the report when questioned yesterday on the set where they are appearing in a film together for the first time.
"Please ask Mr. Gilbert," Miss Garbo said. Not to be outdone, Jack directed all inquiries to Miss Garbo.
It is common gossip in the Metro-Goldwyn-Mayer lot that the screen pair are much in love and that there is more than acting in their love scenes together.
Gilbert, when pressed as to the truth of the engagement rumor said: "I wish I could say more, but you must ask Miss Garbo."
According to the report, the engagement is meeting with opposition from studio officials.
Photo: On the set The Flesh and the Devil (1926). With John Gilbert and director Clarence Brown.
"I will be very frank with you. The only one I have gone out with at all is Mr. Gilbert. Many things have been written about my friendship with Mr. Gilbert. But it is only a friendship. I will never marry. My work absorbs me. I have time for nothing else. But I think Jack is one of the finest men I have ever known. He is a real gentleman. He has temperament. He gets excited. Sometimes he has much to say. But that is good. I am very happy when I am told that I am to do a picture with Mr. Gilbert. He is a great artist. He lifts me up, and carries me along with him. It is not scenes I am doing — I am living." — Greta Garbo
Source: Rilla Page Palmborg (1931)
Circa 1928
A Woman of Affairs (1928). With John Gilbert.
Wild Orchids (1929). With Lewis Stone and Nils Asther.
"Life would be so wonderful if we only knew what to do with it." – Greta Garbo
"It is almost impossible to do business with her. The officials were trying to get her to play a certain role. They argued with her for three hours, until they were congratulating themselves that she was finally convinced. But at the end of all the talk, she merely said, 'I t'ink I go home.' And walked out. That's her final word on everything. 'I t'ink I go home.' She does." – John Gilbert 
"These people, why they write to me? I do not know them. Me, poor little Sweden girl. Why do they want my picture?" — Greta Garbo
Source: Alice L. Tildseley (1929)
Photographer: Nickolas Muray (1929)
"I was born. I had a father and mother. I lived in a house. I went to school. What does it matter?" — Greta Garbo
Source: Herb Michelson (1957)
Photo: C.S. Bull (1930)
"They are making sound movies here now and nobody knows what is to happen to me. Perhaps, I will not stay here much longer. Already some of the top stars intend leaving Hollywood, and it is questionable for how long I will remain a film tramp." — Greta Garbo, in a letter she wrote to her friend Wilhelm Sorenson in 1929.
Source: David Bret, "Greta Garbo: A Divine Star"
Photo: C.S. Bull (1930)
"I am not mysterious. It is just that I like to be alone." — Greta Garbo
Source: Alice L. Tildseley (1929)
Photo: C.S. Bull (1930)
"There is no one who would have me…I can't cook." — Greta Garbo
Photo: Ruth Harriet Louise

"I didn't want to play in the picture because it was a starring vehicle for Garbo. No, I didn't know Garbo and hadn't even seen her. There was nothing personal in it whatsoever. I just didn't want to be stuck in to support a star. As I say, I didn't know Garbo. I know her now. She's a great trouper and a magnificent artist who regards the play as the thing above all else. It was great to work with her." — Charles Bickford
Source: Keith Richards (1930)
Photo: Anna Christie (1930)
"She like me and she is so nice, Miss Garbo. She never says much. She just sits and thinks." — film star Fifi D'Orsay (not pictured) on her first meeting with Garbo.
The two met at the Russian Eagle Restaurant in Hollywood around 1930. Rumors soon started that they were dating.
"Masque de Greta Garbo à la meche" (1930) by Spanish sculptor Pablo Gargallo.
"Being a movie star, and this applies to all of them, means being looked at from every possible direction. You are never left at peace, you're just fair game." — Greta Garbo. (Likely crafted by a publicist)
Photo: Clarence Sinclair Bull
"It is difficult to dress Greta Garbo. She has foreign ideas about clothes that do not go well in pictures. She wants short skirts when she should have long ones. She has many dislikes. She will wear nothing with fur on it, if she can have her way. She wants neither lace nor velvet garments. She goes in for flaunting, bizarre collars and cuffs. And her figure – it is difficult to dress." — Andre Ani, MGM designer
Source: Rilla Page Palmborg (1931)
"Dresses. I wish they were all bags and all alike, to jump into quick." — Greta Garbo
Source: Rilla Page Palmborg (1931)
"I am in deadly earnest when I say that a film star's career is a whole-time job." — Greta Garbo
Source: 1932
Photo: Mata Hari (1931)
Artist: Nino Za. Year: 1931.
"I should want to retire from the screen altogether. I should want to forget that I had ever been Greta Garbo." — Greta Garbo
Source: 1932
Photo: Grand Hotel (1932)
Mickey Mouse toasting Garbo and John Gilbert. Taken from a magazine from the 1930s.
"When she laughs, it's a silent, breathless kind of laugh, that shakes her whole person but makes very little noise. She likes to be led and is easily influenced by anyone she admires… she probably isn't very happy." – Nils Asther
Greta Garbo. Artist: Aris Bacci. Year: 1933. Gouache painting on card stock. 12 x 19 inches.
An experimental (and rejected) promotional item for the MGM film The Painted Veil (1934).
"She is the dream princess of eternity, the knockout of the ages." — Life Magazine in 1928
Photo: Clarence Sinclair Bull
"Being in the newspapers is awfully silly to me. I have nothing to contribute." – Greta Garbo
Photo: C.S. Bull
"There are many things in your heart you can never tell to another person. They are you, your private joys and sorrows, and you can never tell them. You cheapen yourself, the inside of yourself, when you tell them." —Greta Garbo
"I cannot manage, like these wonderful American girls, to do so many things at once – pictures, society, love. If I make pictures, I make pictures. If I make love emotions for camera, I have none [left] over for real life." – Greta Garbo
Caricature of Anna Sten, Marlene Dietrich, Greta Garbo, and Katharine Hepburn. Artist: W. Cotton. 1934.
"There are few very beautiful people. Garbo was one." — Luise Rainer
Photo: C.S. Bull (1936)
"I cannot explain my preference. All I know is that I have a tremendous admiration for Miss Garbo. One cannot explain her. She has genius." — Marlene Dietrich in 1937
Photo: C.S. Bull (1937)
"There's no need to have beautiful features in order to be beautiful. It is the overall arrangement and its particular harmony that gives the impression of beauty. But in Greta's case, every single feature was not only boldly designed but perfect by itself. Nothing was small in her face. A broad, high forehead, a strong, chiseled nose, a wide mouth, and most impressive of all, enormous dark blue eyes set under eyebrows curved like butterfly wings….To me, though, the unique quality of her face showed at its best when she was displeased. In Greta's face, even her frown was a thing of beauty." — Lilli Palmer
Source: Change Lobsters and Dance: An Autobiography (1975)
"She had tried everything to be able to spend at least her holidays in peace. When Garbo-hunting was at its height and she was traveling in Italy for the first time with Leopold Stokowski, she was advised to come to a gentleman's agreement with the press: she would meet them for an hour, be interviewed, and pose without dark glasses, in return for a few days peace in Venice. The reporters enthusiastically accepted, both sides gave their word of honour, and Greta patiently answered questions and posed for pictures. When she said good-bye to them an hour later and left the hotel, on foot, the laughing, howling horde of photographers pursued her just as before." —Lilli Palmer
Source: Change Lobsters and Dance: An Autobiography (1975)
Photo: 1938. With Leopold Stokowski.
"Love makes the world go round." — Greta Garbo
Source: May Mann (1941)
Photo: C.S. Bull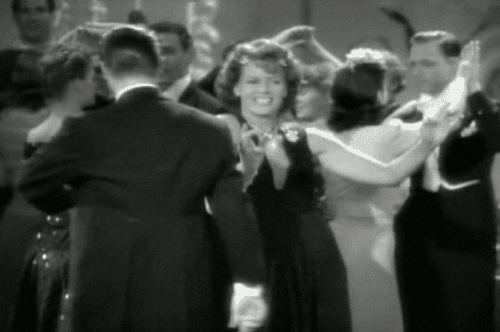 "I have only been on a ballroom floor twice in my life. Both times I sat down because I did not like it. I cannot dance." — Greta Garbo
Source: May Mann (1941)
"As far as my career is concerned, I'm just drifting." — Greta Garbo
Source: 1946
Artist: Jo Davidson. Year: Pre-1952. 4 3/8 inches high and 7 ¼ inches wide with base.