Here's a collection of campy horror films from the 1950s.
Above photo: "The cobra has a fascination. It's like looking death in the face." — Cult of the Cobra (1955).
"I'll give you proof! I'll show you proof such as no man has ever had!" — The Neanderthal Man (1953)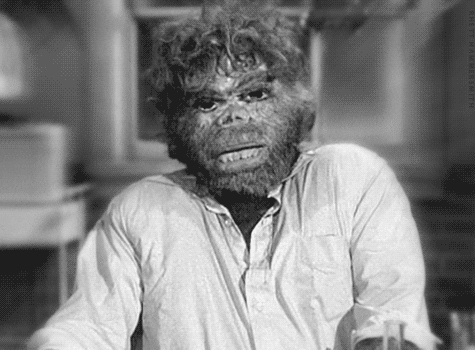 "Humans, listen to me. Due to an error in calculation, there are still a few of you left." — Ro-Man from Robot Monster (1953)
"If we are successful, I shall have a super female spider with a thinking and reasoning brain. A creature that may some day control the world." — line from Mesa of Lost Women (1953). With Robert Knapp and Tandra Quinn.
"It's horrible! They must have weapons we've never even dreamed of!" — Target Earth (1954). With Richard Denny and Kathleen Crowley.
"Those eyes! Those HORRIBLE eyes!" — Killers from Space (1954)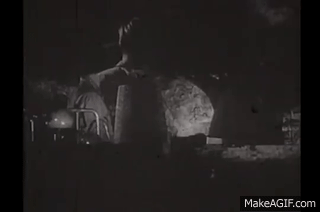 On the set of Creature from the Black Lagoon (1954). The Gill-Man was actually played by two people: the dry land creature was played by Ben Chapman and the underwater creature was played by Ricou Browning.
Notice the Gill-Man's eyes? They were a fixed permanent part of the suit in the original film, which made Ben Chapman's peripheral vision almost non-existent.
"We didn't come here to fight with monsters. We're not equipped for it. We came here to find fossils." — Creature from the Black Lagoon (1954)
"You think you're gonna make a slave of the world… I'll see you in Hell first!" — movie quote from It Conquered the World (1956). With Beverly Garland.
"Speak. I know you have a civil tongue in your head because I sewed it back myself." — Line from I was a Teenage Frankenstein (1957). With Gary Conway and Phyllis Coates.
"I'm going to transform him, and unleash the savage instincts that lie hidden within." — Line from I was a Teenage Werewolf (1957). With Michael Landon.
Grant Williams runs for his life from a cat in the science fiction classic THE INCREDIBLE SHRINKING MAN (1957).
"In all the kingdom of the living, there is no more deadly or voracious creature than the Preying Mantis." – The Deadly Mantis (1957)
"And the Lord said, I will destroy man whom I have created from the face of the earth; both man, and beast, and the creeping thing, and the fowls of the air; for it repenteth me that I have made them." — Attack of the Crab Monsters (1957)
"Our job is to prevent a possible nation-wide panic by keeping the information from the public." — Invasion of the Saucer Men (1957)
"Perhaps it isn't I who's growing, but it's everyone who's shrinking!" – The Amazing Colossal Man (1957)
"Oh that. What's it look like to you?" — Attack of the Puppet People (1958)
"Don't you worry Marge. I know where to get our men. Human men!" — line from I Married a Monster from Outer Space (1958)
"You do not hear me. Our individual brain frequencies are now attuned, and we exchange wave thoughts." — The Atomic Submarine (1959)
"I'll kill you Alligator Man! Just like I'd kill any four-legged gator!" — The Alligator People (1959)
"Does he have a brain that's capable of rationale thinking, or is he just a beast? If he can think, we're in real trouble." — line from The Monster of Piedras Blancas (1959)