"Just because I'm a little – well, you know, different – people believe anything weird about me." – Mabel Normand
Photographer: Aaron Tycko (1919)
"When Miss Normand first came to my company, she got such a small salary that I can't think of any word short enough to tell about it. Now she gets the second or third highest salary paid in the picture business." — Mack Sennett
Source: Harry C. Carr (1915)
Photo: 1921
"There was a long, hard struggle when we were never sure that there would be a pay envelope on Saturday. There were just four of us then – Mr. Sennett, Fred Mace and Roscoe Arbuckle – and me! But we worked hard, and hoped hard, and just trusted in luck. And better days soon came." — Mabel Normand
Source: Pearl Gaddis (1916)
Photo: 1911
"Miss Normand is such a wonderful success even more on account of her head than her good looks. She is quick as a flash and just naturally funny. She is funny to talk to. She seems to think in sparks." — Mack Sennett
Source: Harry C. Carr (1915)
"The trouble with her was inducing her to keep quiet. Like most girls with quick thoughts, she acted quickly. She moved so quickly that the audience couldn't get it. Deliberation and poise were the lessons she had to learn. It was a tough job getting her to slow down. After that, she took up the problem of getting what I call 'man comedy' – that is, the repressed stuff. Not just flying around but sitting still and showing the changing thoughts on one's face." — Mack Sennett
Source: Harry C. Carr (1915)
Mabel Normand (1892-1930) was a regular visitor to the Alexandria Hotel in downtown Los Angeles.  She filmed scenes there for a short Keystone comedy, That Little Band of Gold (1915).   She also dined there quite often with friends.
"Mabel wanted to be smart. And being smart meant doing what wasn't done." — director Allan Dwan
"Afraid? Who said anything about being afraid? I'm usually in too big a hurry to be scared, but I just absolutely know I am going to be killed. When I come through alive I am so surprised that I feel quite sure it isn't myself at all, and want to be introduced to the woman that's hanging around in my clothes." — Mabel Normand
Photo: with Roscoe "Fatty" Arbuckle
"I never make any plans. Nobody in the world lives up to the literal instructions, 'Take no thought for the morrow,' like I do. What's the use in making plans to go places or marry people, when like as not you will have to write a note saying, 'Excuse me. I did want to become your blushing bride today, but it's no go. I was killed yesterday doing a high dive into a tank of brickbats.'" — Mabel Normand
"I make it a part of my daily work to attend theaters where they show Keystone pictures, I listen eagerly for criticisms among the audience and many times get good ideas in this way. But I do not confine myself to my own pictures either. I see everybody's. That is the only way I can keep in touch." — Mabel Normand
Photo: With Roscoe "Fatty" Arbuckle and Mack Sennett.
"The comedy of four or five years ago was a very different affair from those made today, but I think there is still plenty of room for improvement, and the next few years will witness as great a development." — Mabel Normand
Source: James R. Quirk (1915)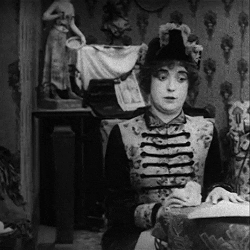 "Of course there will always be slapstick work. That brand of humor is still popular on the stage, with some people, and there will always be more or less of a demand for this kind of fun." — Mabel Normand
Source: James R. Quirk (1915)
"We are going to make only eight [Mabel Normand pictures] a year; that will give us plenty of time to do our very best on them, allowing about six weeks to each five-reel picture, you see….Not promises, nor even prophesies, but hopes – lots of them – and a feeling, away down deep in my heart, that in this metier – somewhere – I shall find and give the best that is in me." — Mabel Normand
Pearl Gaddis (1916)
"Say anything you like, but don't say that I 'like' to work. That sounds like Mary Pickford, that prissy bitch. Just say I like to pinch babies and twist their legs. And get drunk." — Mabel Normand
To Mabel
Twinkle, twinkle little star,
Tell us, please, how old you are.
We have seen you often when
We could vow that you were ten;
Other times your girlish mien
Fixed you at about thirteen,
Gossips aft we've heard repeat
"Sweet sixteen" (you're always sweet).
Now and then a wise old sage
Says "about the flapper age,"
Yet again we see a play
Where we swear you're not a day
Over twenty-one or two,
Mabel, now we beg of you,
Be a jolly little star –
Tell us just how old you are!
From Photo-Play World Magazine, June 1918
A lobby card for Jinx (1919)
"Mabel was happy with the cast of Molly O, especially happy with Dick Jones, who had made Mickey, as her director. Both Dick and I had long talks about Mabel late at night in the tower office. Mabel wasn't the same. She was ill." — Mack Sennett
Source: The King of Comedy
Photo: Molly O (1921), with Eddie Gribbon and George Nichols.
"Acting in the 'movies' is like a cold.  You get used to both after a while." — Mabel Normand
Source: 1921
Photo: 1921

"You don't think I READ the paper, do you? But I do like the dictionary–it looks so well among my other books. They are dummies and the dictionary is the only real thing among them. The cook loves to get the correct spelling of the things she makes." – Mabel Normand
"I wish to heaven some philanthropist would take the time to write about me as I am. Something quite simple, natural. Not making me out a highbrow, or a stately Vere de Vere, or as a girl with no taste at all. Just as I really am – just me. Then the public wouldn't swallow nonsense when it's printed by those who don't care because they don't know any better…. It must be great to be a wharf rat." — Mabel Normand
"I got all [wristwatches] at sea changing time between New York and Los Angeles. I never know whether my wrist watch is an hour ahead or an hour behind. I only knew it's one or the other. So I bought five $1 watches in New York, set them an hour apart and when it was time to change time, I threw a watch out the window. It worked perfectly until we struck a rocky mountain divide when I made a mistake and threw away the wrong one." — Mabel Normand, speaking to a reporter at the San Bernardino Santa Fe train station in 1926.
She had been traveling with Joseph Schenck, Norma Talmadge, and Louis B. Mayer when she got the idea to buy wristwatches and toss them away at opportune moments.
Source: A.L. Woodridge (1926)
Artist: James Montgomery Flagg. Year: pre-1960. Approximately 5″ x 7″