"My humor was never cruel or cynical. I just took life and poked fun at it. We made it so it could be understood the world over, without language barriers. We seem to have conquered the time barrier, too." – Harold Lloyd
"Love is the closest thing to laughter and the closest thing to tears. Love is the motive power of everything in the universe that has beauty in it. Love is the reason for everything and the reward for everything. It's always seemed strange to me that we have to use the word love for so many things. And yet when you come to think of it, that's all right, too, because love is in everything in some form or another. Without it, I imagine the flowers would stop blooming and the sun would stop shining and people would stop laughing, and even the rain wouldn't fall. So love is always growth. I think if I could have just one word for love—it would be understanding. Love must always be unselfish, and strangely enough, love is the only thing in the world that ever is unselfish. And if it isn't unselfish, it's only a counterfeit of love." — Harold Lloyd
Source: 1925
Photo: With Snub Pollard and Bebe Daniels
"In order to get a sure-fire laugh over a comedy's difficulties and dangers, you have to establish an affection for the character first so that the audience will care what happens to him. He has to be a real person to win real laughter." — Harold Lloyd
Source: Dorothy Donnell Calhoun (1925)
Photo: I do (1922). With Mildred Davis.
Lloyd (center) poses with his film crew at Echo Mountain.
Source: Dorothy Donnell Calhoun (1925)
"The dangers we run in making a comedy scene is that it may look planned and no matter how hard we work on it, it has to seem to have just happened in order to be funny." — Harold Lloyd on Echo Mountain.
Source: Dorothy Donnell Calhoun (1925)
"We learn to rely on impressions. After working on it for weeks, a gag is about the saddest thing in the world. If it gets a laugh the moment we hear it, we go ahead and don't worry, even if it seems about as funny as the morgue by the time we finish with it." — Harold Lloyd on making comedy films.
Source: Dorothy Donnell Calhoun (1925)
"We often make a scene in several different ways and try them out on audiences in the little towns around Los Angeles before the picture is in its final form. The preview audience is the laboratory in which we test laughs." — Harold Lloyd
Source: Dorothy Donnell Calhoun (1925)
"But Americans have to have something new all the time. New gags on universal experiences – that's our problem. Thrills were a comedy novelty when I made Safety Last, but I don't use them now. The fans have become so hard-boiled that, instead of laughing and gasping when the hero of the picture stubs his toe on the edge of a skyscraper roof, they have to explain to their neighbor that Lloyd really isn't in the slightest danger – they know how that trick is done." — Harold Lloyd
Source: Dorothy Donnell Calhoun (1925)
Photo: Safety Last (1923)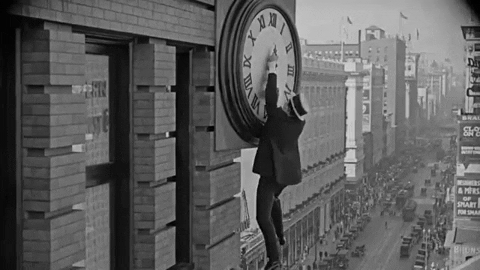 Bizarre Los Angeles Store: Harold Lloyd in "Safety Last" Framed poster
"One situation leads to another – one gag builds up its successor. We seek always to build up every situation to the 'topping-off' point. The top-off gag of any situation must always have a greater force than any other in the sequence." — Harold Lloyd
Photo: Girl Shy (1924)
Hot Water (1924). With Jobyna Ralston.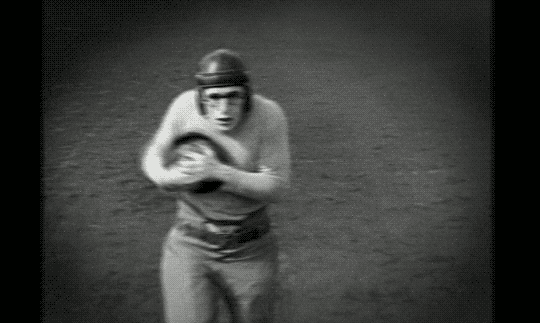 "The best gag in the world will fall flat if it isn't plausible. Take the picture I'm working on now: the hero is a short-sighted college freshman who reports for football practice wearing leather helmet nose-guard and horn-rimmed spectacles. Since we've worked up that gag we have had reports from several universities of football players who actually do wear their glasses while playing – of course, with all sorts of metal guards and protection – but still it proved to us that our gag was based on possibility." — Harold Lloyd
Source: Dorothy Donnell Calhoun (1925)
The Freshman (1925)
"In this picture there is a sequence where the bespectabled eleventh substitute has been called out onto the field thru a series of mishaps to the regular team, and hasn't the faintest idea what it's all about. The signals are Greek to him and when the play is made he rushes bewilderedly about, getting into the other players' way. We made the scene twice, once with everyone but myself knowing what was going to be done, and once with every move I was going to make as the bewildered sub carefully thought out. The first shot was immeasurably superior – it had spontaneity." — Harold Lloyd 
Source: Dorothy Donnell Calhoun (1925)
"No comedy would ever be made if its humor were judged by the reactions of the people on the lot, or the ones who watch it being taken on the street. The laugh value of the scene depends on its context – what comes before or follows after. A casual crowd will shout with joy over a comedy fall, but remain silent while watching a bit of business which will send the audience into hysterics, later on, in the finished product." — Harold Lloyd
Source: Dorothy Donnell Calhoun (1925)
If you don't recognize the Ambassador Hotel offhand, it is the French room redecorated to resemble a Parisian Cafe.
The occasion was a welcome home party thrown for Marion Davies after she returned from a three-month trip to Europe. The year is 1928.
Standing left to right, Lorraine Eddy, Matt Moore, Aileen Pringle, Louis B. Mayer, Gloria Swanson, Harry D'Arrast, Marion Davies, Louella Parsons, Ricardo Cortez, Charles Chaplin, Norma Shearer, Irving Thalberg, Harold Lloyd, and Robert Z. Leonard. Seated in the foreground are Harry Crocker, left, and William Haines.
Speedy (1928)
"You can't have slapstick alone in a feature-length film, because you can't make people laugh all the time or they will wear themselves out. That's why we mix up romance, pathos, story and drama with comedy." — Harold Lloyd
Source: Alice Tildesley (1932)
Photo: Movie Crazy (1932)
A 100 ft waterfall on Lloyd's Beverly Hills estate, circa 1937.
Harold Lloyd's 44-room Greenacres mansion ( 1740 Green Acres Drive) and its surrounding 16-acres on the auction block in July 1975, four years after the famous comedian's death.
Lloyd stipulated in his will that he wanted his famous property to be converted into a museum. Following his death, trustees for the Harold Lloyd Foundation tried to honor the request by opening the house and grounds for tours. Neighbors didn't want a tourist attraction, however, so they complained that the foundation violated a Beverly Hills ordinance prohibiting "mass parking" in the neighborhood. The foundation then tried busing visitors to the house, but it proved to be too expensive.
An attorney representing Lloyd's property said, "The foundation was losing $5,000 to $10,000 a month on the tours, and we just ran out of money." To maintain solvency, the Foundation said that it would sell the home and its furnishings.
The decision to sell the property received a lot of press and as the auction neared, potential bidders were required to furnish a $250,000 line of credit.
The July 1975 auction, however, was a disappointment. Greenacres had cost about $2 million to build in 1928-29, yet in 1975, the highest bid was about $1.6 million. The house and grounds were sold to Iranian, Nasrollah Ashfani, at that price.
Lloyd's granddaughter, Susan Lloyd Guasti, said, "This is one of the largest crimes in the motion picture industry, letting this house go."
Today, Lloyd's Greenacres mansion still exists as a local and national landmark under private ownership, though its massive acreage was subdivided and sold years ago by Ashfani, who then sold the mansion in 1979 for $3 million.
Sources:
Linda Deutsch, "Whatever its worth, you probably can't afford it." (Associated Press) July 25, 1975.
"Harold Lloyd estate sold to Iranian" (AP) July 31, 1975.