"I started late in this business — I was 22 — and I realized early on that I didn't have the immediate striking beauty or a fixed, unchanging film image. What I do have is the intelligence and personality to be a star. I want the long haul — the long run." — Jane Fonda in 1968.
"He [Henry Fonda] did scold about some pictures in a magazine, said I didn't need that kind of publicity which should be left to others who don't have other qualities on which to rely." — Jane Fonda in 1960.
Photo: Peter Basch – early 1960s
"Contacts can take you there but they can't keep you there." — Jane Fonda
Source: Lloyd Shearer (1962)
Photo: 1962
"I want to be better adjusted than I am. Some people think that if you're in analysis, it's because you're crazy. But for me it's just a matter of understanding more about myself. If you want to lead a full life, and this is particularly important for an actress, then you have to learn about yourself. One thing with me, for example, is that I never could express my hostility as a child. I didn't know how. But there's a lot of hostility in me, and as a child it never came out, and my relationships were always pleasant with people. Analysis has taught me that you should know who to love and who to hate and who you just plain like, and it's important to know the difference. Because then you learn to love, to really love some people, really hate some people, and just become passive about others. Maybe if I weren't an actress, I wouldn't have this need to bring out certain things inside me. But I am an actress, and I have this need to search within me and find out and make myself a more complete woman and better actress." — Jane Fonda
Source: Lloyd Shearer (1962)
"You asked why did I want to become an actress when my father did everything possible to discourage me – simply because I'm an exhibitionist, I guess. I want to express my feelings and thoughts." — Jane Fonda
Source: Lloyd Shearer (1962)
Photo: Virgil Apger (1962)
"The thing about Jane is that she is in the process of finding herself, because basically she is extremely shy and does not want to be exposed, and for such a girl it's not easy. You say she sounds highly opinionated, and perhaps she is. But it's all part of her defense. People approach her with resentment, because she is Henry Fonda's daughter and she was born with a silver spoon in her mouth, so she has to define things very clearly and say what she feels and where she stands. Children of celebrities are always on the defensive." — Andreas Voutsinas, former assistant to Lee Strasberg
Source: Lloyd Shearer (1962)
Photo: Peter Basch
Photo: Peter Basch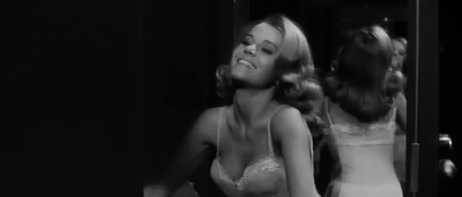 "One must be neurotic to get into the performing arts. In other areas, creating people do their creating in private, perfecting and polishing until the thing is ready for presentation to the public. That's true of painters and writers. But actors are on exhibition when they are creating. And to be willing to subject oneself to this involves lots of complicated psychological things." — Jane Fonda
Source: 1961
Photo: Virgil Apger
"In 'Barbarella,' I was completely naked under the titles. There's a funny story how that happened. We were supposed to have a costume, but it didn't arrive. So we sat down, and Vadim said, 'Listen, anyone who's ever read the book expects Barbarella to be naked all the way through. And anyway, we'll do it as a spoof of the sort of pictures people think I make." — Jane Fonda
Source: Joyce Haber (1969)
"I'm not ashamed of 'Barbarella.' I think 'Barbarella' is a great camp movie. A great cult film, a lot of fun. It was not sexist, either, by the way." — Jane Fonda
Source: Jane Leavy (1985)
Photo: Barbarella (1968)
Jane Fonda's Salmon with Corn Sauce Recipe 
Prep time: 40 mins Cook time: 20 mins
Total time: 1 hour Serves: 4
When weather permits, cook the salmon on an outdoor charcoal grill for a great summer dinner party. Although relatively high in fat as seafood goes, salmon is a good source of omega-3 fatty acids, which benefit the heart and circulatory system.
Ingredients
2 tablespoons reduced sodium soy sauce
2 garlic cloves, peeled and minced
1 tablespoon lemon juice
1 teaspoon sugar
4 center-cut salmon fillets, about 4 oz each (skinned and trimmed, and pin bones removed)
2 cups corn kernels
1/3 cup choppied sun-dried tomatoes, packed without oil
1/2 cup water
1/2 teaspoon ground cumin
1/4 cup chopped green onions, green and white parts
1/4 cup choped fresh cilantro (fresh coriander)
1 teaspoon ground black pepper
Instructions
To make marinade, in a shallow glass baking dish, combine the soy sauce, garlic, lemon juice and sugar. Add the salmon fillets, turn to coat both sides, cover, refrigerate and marinate for 15 minutes to 8 hours. (I usually do this in a ziploc bag.)
To make the corn sauce, in a small saucepan over medium-high het, combine the corn, tomatoes, water and cumin. Bring to a boil, reduce the heat to low and simmer until the tomtoes are soft, about 10 minutes. Remove from the heat, add the green onions and cilantro and stir to mix well. Cover to keep warm.
In a large nonstick frying pan over medium-high heat, heat 1 tablespoon of the marinade. Transfer the salmon to a work surface and coat with the pepper. Discard the remaining marinade.
Add the salmon to the hot pan and saute for 4 minutes. Turn and saute the fish until it just separates when pressed with a fork, about 4 minutes more.
To serve, divide the fillets among 4 individual plates. Top each with an equal amount of the sauce. Garnish with cilantro sprig.
Notes
The corn sauce, which is also good on chicken breasts or halibut, can be made ahead, refrigerated in an airtight container for up to 2 days and reheated in a small saucepan over low heat while the fish cooks.
"I've known Jane Fonda since she was a little girl. I've never agreed with a word she's said, but would give my life defending her right to say it."— John Wayne (or at least, attributed to him in 1979, after his death).
Earlier, John Wayne was asked what he thought of Fonda's activism against the Vietnam War. He replied, "I think she's a little mixed up in her thinking." 
Jane Fonda responded to his comment, by saying, "I don't know the man, but I think he's got guts."
When Fonda won her Academy Award for Klute, John Wayne showed up at a party to congratulate her. Both agreed to respect their political differences.
"I was gray-listed. Nixon used the same tactics on me he used on people he didn't like in the '50s. He had conservative state legislators introduce measures that would condemn or ban my films or prohibit me from even entering a state. Conservative theater owners went along, and studio executives who might have shared my politics said, 'What can we do? Why take a chance?'" — Jane Fonda
Source: Gene Siskel (1979)