"Out here in California, I knew as much as the rest of the girls in movies, which was nothing. The difference was I would take any part. I never sought to be a star. I didn't mind being typed. I wanted to be typed. One of the greatest thrills of my life was hearing a director say he wanted 'a Lucille Ball-type' for a picture. Of course, later it was different when they said they wanted 'a young Lucille Ball-type.'" – Lucille Ball
Source: Phyllis Battelle in 1974
Photo: Ernest Bachrach in 1937
Chorus girls for the musical number "Boulevard of Broken Dreams" in Moulin Rouge (1934). Lucille Ball and Barbara Pepper are among the girls. I'm thinking Lucy and Barbara are on the very front row: Lucy is far left and Barbara is directly to the right of her. What do you think?
"You were taken in charge and trained. They have none of that today any place. I regret the passing of the studio system. I was very appreciative of it because I had no talent. Believe me. What could I do? I couldn't dance. I couldn't sing. I could talk. I could barely walk. I had no flair. I wasn't a beauty, that's for sure." – Lucille Ball
"I'd rather regret the things I've done than regret the things I haven't done." — Lucille Ball
The Dark Corner (1946). With Mark Stevens.
"Yes, I'm going back to a nice, well-cushioned rut. I signed with MGM again." — Lucille Ball
Source: Bob Thomas (1946)
Photo: 1946
"My mother always taught that when you play life, you attack it selfishly. Her theory is that the life you're playing is yours and yours alone." – Lucie Arnaz
Source: Marian Christy in 1974.
"Feature for feature – I had good eyes. And the rest of it we made up as we went along. But a good disposition, happy, eager – I think that covers a lot of things." — Lucille Ball
Source: Angele Fox Dunn (1982)
The pilot for "I Love Lucy" was filmed on March 2, 1951, at Columbia Square's Stage A, located at 6121 Sunset Boulevard. Columbia Square was the former West Coast headquarters for CBS Television.
One the set of I Love Lucy in 1952. At the time, Desilu was located at 1040 N. Las Palmas Avenue. With Desi Arnez. (LAPL 00046564)
"Once in his life, every man is entitled to fall madly in love with a gorgeous redhead." — Lucille Ball
"He taught me most of what I know about timing, how to fall and how to handle props and animals." – Lucille Ball on Buster Keaton.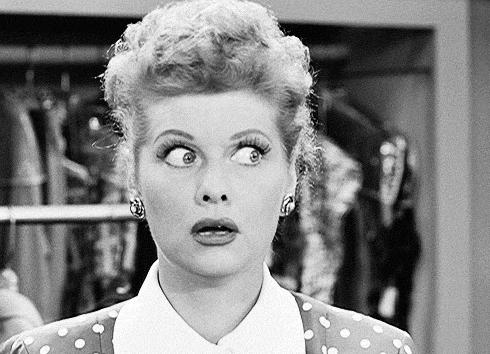 "One of the things I learned the hard way was that it doesn't pay to get discouraged. Keeping busy and making optimism a way of life can restore faith in yourself." – Lucille Ball
"I Love Lucy" in 1956. Orson Welles was a special guest.
"I am a real ham. I love an audience. I work better with an audience. I am dead, in fact, without one." – Lucille Ball
Lucille Ball attending Freddie Prinze's funeral at Forest Lawn Memorial Park Hollywood Hills in 1977.
After Prinze, the former star of the television show "Chico and the Man," committed suicide on January 29, 1977, his remains were interred into a crypt at the Court of Remembrance/Sanctuary of Light.
After Lucille Ball died in 1989, her cremated remains were interred at the same Court of Remembrance structure, in a different section called the Columbarium of Radiant Dawn. In 2002, her ashes were transferred to New York at the request of a family member.
Photo: Lawrence Downing/ LAPL 00107281
Behind the scenes with Gary Coleman during the taping of The Lucille Ball Special.
Photo: AP, Nov. 19, 1979
Lucille Ball. 5'8″ tall. Valued at $5,000 – $7,000. Retired from the Hollywood Wax Museum.