"I know I'm not pretty. I cannot make a place for myself on the screen as a beauty. I am not even an exciting person. There is, therefore, only one thing left. I must be an actress. And the more variety I can get, the more they will think of me as a capable actress." – Karen Morley
"I hated being poorly dressed and not being able to afford things. I didn't like the boys–there was a shortage of males, so they were all upstage and badly behaved. I couldn't join a sorority but I didn't mind that, as I did not want to be associated with one little group anyway. At the end of the year, I decided I was wasting my time. I went to the Pasadena Community Playhouse–couldn't afford to join the school, but I hung around and did anything and everything, costumes, stenography, scenery, anything that needed doing. Presently, they let me act…in 'Fata Morgana.' In the meantime, I haunted the casting offices of the studios. I know all about being turned down in every variety of language. Then someone sent me to Clarence Brown to read lines for Greta Garbo in tests for male players for 'Inspiration.' I did well enough for Mr. Brown to give me a small part of Liane, the suicide, you remember. That was my first break. I've traded on it shamefully ever since." — Karen Morley discussing her early days, including her brief one-year stint at UCLA following her graduation from Hollywood High School.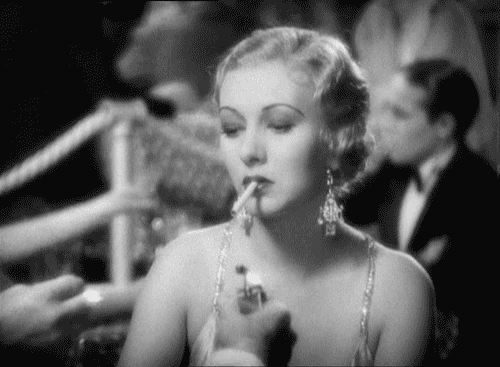 Our Daily Bread (1934). With Tom Keene. Directed by King Vidor.
"I was what you'd call a 'pillow Red' — I became a Communist because I fell in love with a man who was a Red and entered the Army to take care of the Fascists, and I knew it would please him if I became one. There was very little that was political about it." — Karen Morley on her husband Lloyd Gough, a character actor who enlisted in the U.S. Army during WWII. Morley, and her husband, were later blacklisted after being brought before the House Un-American Activities Committee in 1947.