"Really, I never do anything exciting that is worth writing about. I guess I am a poor subject….My diary would be similar to this. I arise in the morning, eat breakfast hurriedly, rush down to the studio, work all day, come home, take a cold shower, eat dinner, go to a Motion Picture show, read a while and then retire. On Sunday, I go to church. So you see there is not much excitement in my life." — Dorothy Gish
Source: W.E. Keefe (1915)
"I had my first taste of stage life when I was four years old. A theatrical company was formed in Dayton, Ohio, to put on 'East Lynne.' My aunt was a member of the company. Two days before the opening performance was scheduled to take place the little girl who played the part of Little Willie became sick. I was given the part. My mother did not fancy me going on the stage, but she finally gave in. I don't remember much about it, but mother says I was very proud and wanted to be on the stage all the time. When I was off the stage, I cried, so they tell me; but when I was before the footlights I was as happy as a lilting lark. I played the role of Little Willie on 'East Lynne' for three years. I then went with a company playing 'The Little Red Schoolhouse.' My sister, Lillian, and Mary Pickford were both members of this company, and we gained the name of 'The Three Mischiefs.'" — Dorothy Gish
Source: W.E. Keefe (1915)
Photo: Dorothy Gish, May Robson, and Lillian Gish.
"I played various children's parts in melodrama, all told, for seven years. I then left the stage and went to Virginia, where I went to school. Lillian and I went to school together. We remained in Virginia until two years ago when we moved to New York. I had heard and read about Mary Pickford becoming famous as a Motion Picture actress." — Dorothy Gish
Source: W.E. Keefe (1915)
"Just as soon as we reached New York, Lillian and I went to the Biograph studios where Mary was working. We checked our baggage at the railroad station and went out to see her before we had even selected an apartment. We found her at the studios, and she was awfully glad to see us. She looked just the same to us and hadn't changed much." — Dorothy Gish
Source: W.E. Keefe (1915)
Photo: Mildred Harris, Mary Pickford, Lillian Gish, Mary Gish, Dorothy Gish
"Mr. Griffith was a director at the Biograph. Thru Mary Pickford, we met Mr. Griffith, and the day following our arrival in New York, Lillian and I worked in our first picture. We played the parts of the sisters in 'The Unseen Enemy.' When Mr. Griffith left the Biograph to become chief director for the Reliance and Majestic companies of the Mutual Film Corporation, Lillian and I went to California to appear in the reorganized companies. One of my first pictures with the Mutual was in 'The Mountain Rat.' I was also featured in 'The Mysterious Shot' and 'The Floor Above' soon after coming to California." — Dorothy Gish
Source: W.E. Keefe (1915)
Photo: Dorothy Gish, Lillian Gish, and D.W. Griffith in 1922.
Purchase your Fine Art America Print, Coffee Mug, T-Shirt, etc. of this image by pressing here!
"I love to go to Motion Picture shows. Mary Pickford and Blanche Sweet are my favorites on the screen. I enjoy seeing some of my own pictures, and I like to criticize myself. Whenever I see myself on the screen, I always think if I could do it over again I would make some little change. I always try to remember some slight expression or movement that I could improve upon, and when I have a similar part I try to make the best of it that I can. This is one advantage of being in pictures. You can see yourself as others see you, and if you are a conscientious critic you can always see room for improvement." — Dorothy Gish
Source: W.E. Keefe (1915)
"I was a 'stage chile.' Began at four as Little Willie in 'East Lynne.' When I entered pictures for Biograph, I was 14. In those days it was considered something of a disgrace to be associated with movies. One spoke of it in apologetic whispers. With clocklike regularity, I'd declaim my annual departure for the theater and then proceed to do nothing about it. That went on for years – through my Griffith era, those numerous comedies I made and the European made productions." — Dorothy Gish
Source: 1944
Photo: 1910s
Revolver Jane (1918). A Swedish poster.
Photo: 1923
Tea time on the set of Romola (1924) with Ronald Colman, director Henry King, and sister Lillian.
"I love to be in comedy, and whenever I am cast in a comedy or a comedy-drama I am happy. I like to dress up for old-fashioned parts. I take a special delight in making up for a grotesque character. It is quite a relief when I can stop playing the heavy dramatic parts and play a comedy role."  — Dorothy Gish
Source: W.E. Keefe (1915)
Photo: Nell Gwynne (1926)
"I prefer comedy-drama, and always have liked the pictures better than the stage. I love my work, for it is always interesting and exciting." — Dorothy Gish
Source: Edna Wright (1917)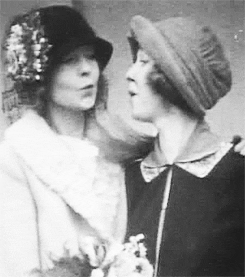 "Well, as for a hobby, why, they keep me so busy at the studio for one, or even to think of one, but Lillian says it is teasing her." — Dorothy Gish
Source: Edna Wright (1917)
Nell Gwyn (1926)