"I am here again, sadder myself, but, I believe, more capable to make others laugh. It has been a terrible experience I have been through. I have seen men suffer; I have seen men die; I have been close to death myself. You think, monsieur, that this experience would kill all the laughter in me? You are wrong. It has made me infinitely sad, but it has also taught me to laugh. There is one secret to laughter which I have learned by this experience – the propinquity of laughter and tragedy. Soldiers, monsieur, learn to laugh. The horror of the battlefield is terrible. It is ghastly. To brood on it drives men mad. So we learn to laugh – to take things as as a matter of course. It we die, it is as it will be; if we live, we are glad. We laugh; we weep over the dead comrade; we rejoice over those who are living. So it is – the laughter and the tears are mingled together. Each day is a new life. The man in the trenches lives for the day. He smokes his pipe or cigarette, or he goes without; he eats his rations, or he goes without; he does his work; he amuses himself as best he can; he jokes; he laughs; he fixes bayonets and charges the cannon's mouth – and dies. It is all the same; it is his life. Ah, monsieur, when you hold the hand of a dying comrade, you know the grim tragedy of life. This great sadness has made me wish to bring more joy to the world. I want to make people laugh as never before. This experience has added a new element to my comedy; has taught me to inject a whimsical humor into tragedy – to bring laughter at the verge of tears." — Max Linder
Source: Clement F. Chandler (1917)
"It is the contrast, monsieur – the quick change from sadness to joy. That is humor in the highest sense; that is laughter. They are closely akin – the tears and the smiles. I, myself, rely more on facial expression to make comedy than on antics, though I employ all means. I prefer the subtle comedy. the artistic touch, but it is a mistake to say I do not use the slapstick. I do not make it the object; I do not force it; nit I employ it when it comes in naturally. In slapstick there must be suddenness of action, a quick turn of events, something unexpected, to bring laughter. It muse touch the ridiculous." — Max Linder
Source: Clement F. Chandler (1917)
"I enjoy the smell of a cigarette. But myself! I can smoke no more – the injury to my lung, monsieur. The doctor has told me never to touch the cigarette again. It is a hardship, but it is necessary. Also, I can eat very little. Pah! The physician found out all the things I liked to eat, and then cut them off the list. I east mostly soups, I do not like them – these soups." — Max Linder
Source: Clement F. Chandler (1917)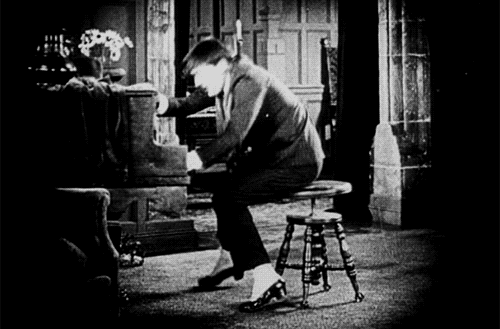 "Yes, I have been on the stage. I started on the stage. But stage comedy  and screen comedy are entirely different. One must think more to be successful on the screen. On the stage, one relies on the physical appearance, on the voice, on the wit and repartee of the play, as well as on personality. On the screen, you rely on your own action, on your own ability, to express a thought or emotion. But it was hard for me to get on the stage. My parents were stagefolk, but they did not want me to act. At twelve, I was sent to a school in the Bordeaux, where I was born, to be an artist. I did not like the work. I was indifferent with the brush, so I was sent to a musical conservatory. But I did not wish to study music. I wanted to be an actor. I was the naughty boy. I pretended to go to the music college, but instead attended a dramatic school. At the end of the year I won the first prize. Ah! what you say – the cat was out of the bag? If I had been smaller, my father would have spanked me. As it was, he gave me permission to go on with my study. At nineteen I was engaged to play in the Classic Theater….Then I went to Paris, where I was on the stage several years. Afterward I toured Europe." — Max Linder 
Source: Clement F. Chandler (1917)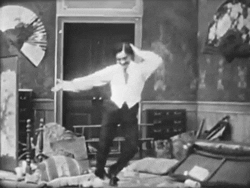 "I was becoming interested in the silent drama, and, while still on the stage, gave part of my time to this work. At twenty-seven I quit the stage altogether to work for the cinema. Later I established my own theater at 24 Boulevard Poissoniere. I am now building a fine theater there. My films that I make in America will be shown there." — Max Linder
Source: Clement F. Chandler (1917)
"Then came the war. I offered my car and my services to the minister of war. I carried dispatches to the front. No, I was not an officer, monsieur. I was a private. The man with military experience should be the officer and is. We were glad to serve in the ranks. I carried many dispatches. What they were and to whom, that I cannot tell. Those are military secrets, monsieur. I can tell that one night, not 25 miles from Paris, there was a shot in the dark when I was going 50 miles an hour without a headlight. I was past the trenches on the way to a scouting party in advance. The soldier beside me slid forward in his seat. His shoulders shook, and he was still. I could not take my hand from the wheel, monsieur, to learn whether he was living or dead. Dispatches must be delivered. We took my comrade out of the machine, dead, monsieur. We dug a hole with sticks and our bare hands and we buried him. It is the fortune of a soldier, monsieur. I was driving through Vailly Soissons with important dispatches. They were not delivered. A shell struck 100 feet in front of my car and plowed through the road. I stopped on the brink of a gap ten feet deep. I crawled out of my car and hid behind a wall. There was another shell. It struck just behind my machine, and it was blown to atoms. A scouting party approached. My comrade and I – for there are two, in the hope that one may get through – ran to the creek, a few hundred yards away. We jumped into the water up to our necks. There we stayed while they searched for us. They crossed the bridge. It was dark. They did not see us. In the morning our own soldiers came up, and the scouting party retreated. I was taken back to Paris. I was ill. I was very ill, monsieur. I had contracted pneumonia from hours in the cold water. I lay in the hospital for weeks. When I was fit for service, I was assigned to the 13th Regiment by General Gallieni. I was in the light artillery. The guns are mounted on motor vehicles, which charge ahead of the foot-soldiers. They clear the way for the bayonets after the big guns have done their work. The charges? They are terrible, but they are inspiring, monsieur. We were all excitement. We 'rode hell for leather,' not caring whether we lived or died. But we could laugh, monsieur. It was necessary to laugh to relieve the tension. It is just as necessary for the busy people in America to laugh to relieve them from the strain of business cares. That is why they go to the cinema. We laughed when a crow in the fields was repulsed by its mate. Our comrades were dying. We would be next, but we laughed. It was necessary, as I have said, monsieur. It was not laughter because there was any laughter in the situation. That was entirely serious. We felt the terrible havoc. But our nerves must be relieved, or we go mad. My turn came. It was in the battle of the Aisne. A bullet sped through my lung. I plunged from the truck. I knew nothing. After hours I was picked up and sent to the hospital. It was months before I was able to rejoin the service. I was slight of build for the artillery service, so I was assigned to an aeroplane squad. But I could not fly high, monsieur. Once it was necessary for me to rise to a great altitude, the change in air-pressure affected my lung. One night there was a call for 11 of the squad to carry out a commission. I was among them, but the army surgeon ordered me not to go. That is why I am here today, monsieur. The others never came back. What happened to them no one knows. They never have been heard from – my brave comrades. I was sent back to the Contrexville hospital, and it was there I was asked to come to America." — Max Linder
Source: Clement F. Chandler (1917)
"It was the inspiration. I had seen all the sorrows of the world. 'I will now try to bring more joy into it,' I said. So I agreed to come to America. Here I am, monsieur. I have never been in America before. But I am back working for the screen, working to make people laugh, monsieur. I hope to succeed. I used to do this. I think I am more capable now. It is as it will be, monsieur. I have had my sobs – now I will laugh with my audience." — Max Linder 
Source: Clement F. Chandler (1917)
"I am seek in my big house in Beverly Hills. I know nobody. The English, I cannot talk. Nobody comes to me. But I have one good doctair. I tell him, 'I don't know what is wrong. I am just tired — tired all the time. The doctair say, 'Mr. Linder, you very seek. You must break your contract. You have pleurisy. That is dangerous.' So I lay in bed all alone in the house for six months. Nobody come. I am lonely — want to die. I have big family in France — mother, father, brother, three sisters. I feel so bad I cry. But I think, 'My mother have a weak heart. If I tell her I am seek and triste (sad), she will be miserable.' So I write I am very happy." — attributed to Max Linder in 1922. The accent was courtesy of the original author (uncredited).
With fellow comic Charles Chaplin.
Disclosure: The links below are an affiliate link, meaning, at no additional cost to you, we will earn a commission if you click through and make a purchase. We don't make much — enough to buy a coffee here and there so that we can continue posting cool stuff at all hours of the day and night for your enjoyment.  We also only try to provide recommended products relevant to the post.