"It's for your good! You have no business being sick – everyone of you should get well and get up and go to work, huh? Get up and go to work and earn some money and help send the gospel out! Amen!" — Sister Aimee Semple McPherson
AIMEE HORRIFIED BY PARIS NIGHT LIFE: CALLS CITY SODOM
By RALPH HEINEN
PARIS, Sept. 24, 1928 – (UP) – Aimee Semple McPherson has deserted Paris for the more placid city of Geneva, but the Montmartre was still stunned today after her whirlwind "sin tour" of the gayest streets in the world.
Up the hill that is the Montmartre went the California evangelist, shuddering as she traveled a trail thick with champagne corks, scantily-clad girls and laughter.
In some ways it was similar to the "sin tour" that Mrs. McPherson made in New York, except that she found Paris far more wicked than the American metropolis and was "happy to be an American."
Accompanied by a United Press correspondent, she entered the "Dead Rat" cabaret where waiters rushed up with tubs of champagne only to halt with a perplexed expression on their faces as she waved for them to take the wine away.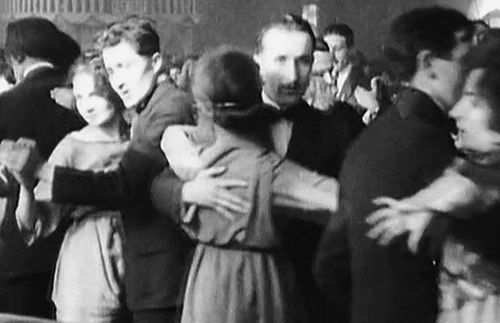 Gigolos, the dancing men of Paris, bowed low and asked her to foxtrot with them, but Mrs. McPherson begged the men to forsake their riotous living and embrace the greatest pleasure of religion. They turned away.
"Heaven and Hell" was her next stop and from there she went to "Pigalle," "Russian Caviar," and "Briccotops." In each cabaret, she sought to convert the waiters and entertainers.
Came midnight at the "Tabaria," and nude girls rode chariots thru the swirling crowd.
"What a pity, what a pity," said Mrs. McPherson. The tour ended at "Forest Glade."
"My heart nearly stopped when I saw girls, unclothed or nearly so, dancing, singing or riding their chariots all for such pleasures of the flesh," Mrs. McPherson said. 
Arriving at her hotel, she wrote the following impression of her tour for the United Press:
By AIMEE SEMPLE MCPHERSON
"I stood on the brink of Hell tonight and looked down inside.
"Gay Paris is polished on the outside, but it is the rottenest city in the world at the core.
"I want to cry from the highest point in Montmartre.
"This city is a veritable Sodom and Gomorrah, but it seems to me that God's patience is being tested and Paris is doomed to certain destruction. Your revelry will burst like the bubbles in your champagne glasses; your toy balloons you burst with cigarette tips.
"Satan has blinded you.
"You are sex mad.
"You have forgotten civilization.
"You have reverted to animals, but I know who are hungry for religion and some day I will come back and try to save a few souls.
"I suffered to see those young girls whose lips quivered under the carmine. I thought of the unhappiness of their mothers as I saw them stretch their bare arms to their dancing partners, who whirled their barely clad bodies in the mad dancing, but I was disgusted with the gorgeously gowned matrons, stalking through the cabarets, trying to cover their sinful hearts with a thin layer of silk.
"It hurts me to think of the thousands of young Americans who come here imagining they are on a lark, without chaperons.
"If only their parents knew that Montmartre is wilder and dirtier than the tinseled dance halls of the old, wild west.
What an atmosphere; what pitfalls. Everywhere the popping of corks; girls and boys on high chairs bent over bars or girls with baby faces letting strangers circle their waists on the dance floor.
"These orgies are worse than Rome. They last from sunset to dawn. They make me ask: Where is France's reason? Where are her churches?
"It is too awful to describe, but some day there will be a reckoning and they will pay for every vile kiss which has crushed the lips of callous companions.
"Paris is like a white sepulcher, a burial place of thousands of rotted souls.
"I would love to hold a revival here and clean out the shadows from the webs where sin is driving people crazy. 
"The more I see of Paris and Montmartre, the more happy I am to be an American.
"At home at least we never liberate such commercialized deviltry."
On Thanksgiving Day (November 29) 1928, approximated 2000 fans greeted McPherson  after her whirlwind "battle with the Devil in England and France." During her absense, Los Angeles District Attorney Buron Fitts had subpoenaed her after allegations surfaced that she had spent over $100,000 in pay-offs while fighting felony charges connected with her alleged "kidnapping" claim. McPherson stated that she was being attacked by unknown enemies and the new charges were "the bunk." (LAPL 00022006)
During this time, Superior Court Judge Carlos S. Hardy was being investigated for accepting a $2500 check from McPherson and her mother, Ma Kennedy, for rendering "legal services" regarding her ministry. Many had accused Hardy of accepting money in return for helping McPherson out of a jam.
Contained within the articles of Hardy's impeachment was an allegation that he had obstructed the grand jury's investigation into McPherson's 1926 claim that she had been kidnapped and held for ransom following her mysterious disappearance while going for a swim at Ocean Park. A more likely scenario was that she had left Los Angeles to engage in a discreet affair with a former KFSG engineer Kenneth Ormiston. However, nothing was ever proven largely due to McPherson's political influence and enormous following.
Although the American Bar Association expelled Hardy, the California Senate acquitted him for accepting a "free will offering" instead of a legal fee.
****
One last note: On September 27, 1928, three days after McPherson published her attack on Paris, a Los Angeles clergyman, Reverend Pletsch, launched an attack on her while speaking at a church in London, England.
"She is the twentieth century Jezebel," Pletsch warned. "She is coming to London to chase out the devil and later pack her bag and get out first."
McPherson leading a song during Foursquare Gospel church service. Her church was the Angelus Temple at 1100 Glendale Boulevard in Echo Park. Photo taken in 1930.
"Whether you like it or not, you're an actress." — Charles Chaplin to McPherson
Photo: with King Kong (1933)
A gathering at the Angelus Temple Prayer Tower after hearing the news that McPherson, had died from an overdose of pills in Oakland, California. The cause of her death is still listed as unknown, and the church made a great effort to make sure that her death was NOT discussed as a possible suicide. The general consensus among biographers and historians was that she had accidentally overdosed. Shehe was broke at the time of death, however, with only $10,000 to her name. Photo: September 27, 1944. (LAPL 00021742)