"'Wonder Woman' was never developed to the point where she felt any emotions, but she was independent and did what she felt was right. But it was a character that existed before Lynda Carter. I'm glad to be doing other things. I would like to have seen 'Wonder Woman' develop a little more character." — Lynda Carter
Jerry Buck (1982)
"In many ways, it was a groundbreaking role because at that time network executives did not think that a woman could carry a drama series. Television was very male-driven until the 1970s." — Lynda Carter
"I'm a feminist, which means I'm for women, but I'm not against men at all. I simply feel that women should respect one another be responsible for themselves." — Lynda Carter
Source: Sherry Woods (1975)
Lynda Carter and stunt double, Jeannie Epper, circa 1975.
"I really loved doing the stunts. I had a lot of stunt women, because they all did something different, but I ended up doing most of the fights myself. The stunt guys taught me how to throw a punch, and eventually I became an honorary member of the Stunt Women's Association." — Lynda Carter

"[Lynda] was extremely bright. There were times when she was right about certain scenes when a director wanted to do something that she felt wasn't characteristic of her part as 'Wonder Woman.' She would stand up for herself, and she was right. Then, they would call her a bitch, and maybe she was a bitch in that area, but she was correct in what she was saying about her character. To me, she was the only really live person that could have ever portrayed 'Wonder Woman' and pulled it off the way she did." — Jeannie Epper
"I really hadn't played camp before and they sort of wanted me to. Superman camped it up pretty big and I never really did. I tried to play her like a regular woman who just happened to have superhuman powers." — Lynda Carter
Source: 2000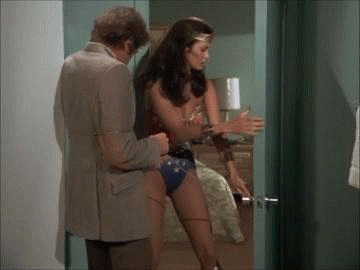 "I always thought of Wonder Woman as one of the first strong women on TV. I like to think we broke open a few doors, and I always tried to play it in a way that brought into it 100 percent, with no we're not kidding." — Lynda Carter
Source: Chris Hewitt (2005)
"Basically, the roles being written for women are very exploitative. Pretty women on television play pretty women, not just women. It's glamour and pretty clothes." — Lynda Carter
Source: Jerry Buck (1982)
"I'm nice to look at. Sometimes I look at photos of me and I can't really believe it is me. Sometimes I get angry or snooty and if I start acting like that, they call me a blankety-blank." — Lynda Carter
Source: 1980
LYNDA CARTER'S SOUTHWESTERN ENCHILADAS Recipe
Sauce Ingredients:
2 tablespoons safflower or sesame oil
3 tablespoons flour
1 clove garlic, crushed
1.5 teaspoons "hot" chili powder (she prefers New Mexico)
Salt, pepper to taste
1 10-oz can chicken broth
1/4 cup water
Directions: Heat oil in pan. Add flour, garlic, chili powder, salt and pepper to taste. Stir to blend. Add broth and water slowly. Simmer, stirring, 5 minutes or until sauce thickens.
Assemble instructions:
12 corn tortillas, fresh or frozen
Heated safflower or sesame oil
2 cups cooked, shredded chicken
1/2 medium onion, peeled, chopped
3 tablespoons chopped black olives
1 cup shredded Monterey Jack cheese
1 California avocado, peeled, seeded, sliced lengthwise
Directions: Dip tortillas one by one in 1/2 inch heated oil, then in sauce. Spoon small portion of chicken, onion, olive and cheese into each tortilla. Roll and place seam-side down in baking dish. Repeat, filling each enchilada, reserving some cheese for the top. Spoon remaining sauce over top. Place in preheated 300-degree F. oven for 10 minutes. Remove. Garnish with avocado slices and sprinkle remaining cheese. Broil briefly until cheese is brown and bubbly. Serve at once with Carter's favorite salad (mixed greens, tomatoes, cucumbers, raisins and Roquefort or Italian dressing.)
"It's not about whether my reading is good. It's, 'How does Lynda look?' If people have not seen you recently, there is a tendency in this business for them to think you had a bad facelift or gained 50 pounds. When I go to meetings, I can see the relief on their faces." — Lynda Carter
Source: Chris Hewitt (2005)
Photo: 2005
"People are trying to connect with you through some character that they loved seeing you do. She is such a powerful role, almost anything else I do pales in comparison." — Lynda Carter 
Source: 2017
Photo: 2017