"You know, some people may not be aware of it, but I've done other things besides playing Superman." — George Reeves
Source: Hal Humphrey (1956)
George Reeves' acting card from 1949.
Leaping in a single bound on the set of The Adventures of Superman.
Photo: 75 Years of DC Comics: The Art of Modern Mythmaking by Paul Levitz
"How can a starving actor sell himself out? I wasn't doing anything when this chance came along. The way I look at it, a working actor is a good actor, no matter what he's doing." — George Reeves
In the photo, Reeves poses with his The Adventures of Superman co-star Noelle Neall ("Lois Lane").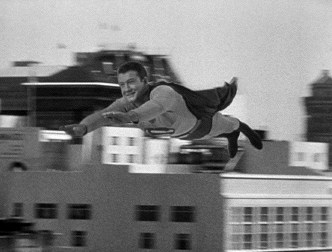 "I'm great for when they want to open something to attract kids. This summer I may go to Japan. I'm big in Japan." — George Reeves
Source: Bob Thomas (1958)
A life mask converted into a bust.