"I trained myself to be able to imagine an entire musical sequence without having sets put up on the stage, to film it exactly as it would be seen on the screen without the help of editing or of multiple cameras. Everything is prepared in my head beforehand. I tell the cameraman what I want, precisely, down to the final detail." — Busby Berkeley
Source: Les Wedman (1967)
Lorena Andrews, c. 1933.
Footlight Parade (1933).
Following Jean Harlow's unexpected death in 1937, MGM hired a former Busby Berkeley chorus girl named Mary Dees to body double for her in completing Saratoga.
Dees was taught to walk and move like Harlow while the camera crew filmed her in long shots and with her back to the camera. There is at least one shot of her from the front, hidden behind a pair of binoculars. The studio, meanwhile, made no secret that a stand-in was used to complete the film and Dees received quite a bit of press. However, getting her name in newspapers did little good for her career, since the notices had a hint of negativity to them.
Take, for instance, the article "Monte Blue Has 2 Stories Behind Act; Federation Sponsors Fine New Film," by W. Ward Marsh, published in January of 1938:
"All of us have seen Miss Dees perhaps a hundred times without realizing that she was the late Jean Harlow's stand-in. When not standing-in she was away at various times with most of the companies in Hollywood making musicals, for she is a dancer and a 'show girl'….
"Only rarely does a stand-in ever rise above the status of stand-in. She is doomed to follow the unheralded and unsung road by closely resembling the star she works for in the studio.
"Miss Dees is arriving through a different route. The illness and death of Jean Harlow, whom she closely resembles, are giving her the breaks she never had during her five years in Hollywood.
"She left Alabama five years ago and went to Hollywood, determined to make good. Her first opportunity came when she had a chance to appear in one of those gigantic Busby Berkeley production numbers for Warners.
"But she didn't know how to dance!
"She told Berkeley she was a showgirl and then the other girls who were also hired taught her to dance before they went to the studio. Maybe this would work!
"The life of a Hollywood showgirl if she is pretty and shapely, is a life of hard work. After Miss Dees was spotted in a tune-show as a good stand-in for Miss Harlow, she worked at MGM. during all Miss Harlow's pictures. When the star wasn't working, Miss Dees was off to Paramount dancing in the Bing Crosby films or over at Warners in Gold Diggers, 42nd Street or Footlight Parade. She did, as you know, do several scenes in Saratoga, left incomplete by Miss Harlow's death.
"And now she's under contract to M.G.M., and she's hoping for that big break in films she sought five years ago when she came out of the deep south with nothing more than an idea that someday she'd make a name for herself in the show world."
Sadly, she didn't. MGM did nothing with her. Her last known film appearance was A Night in Casablanca in 1946.
Renee Whitney in Gold Diggers of 1933
Anita Thompson
"Busby Berkeley is not a choreographer; people do not dance in his films, they evolve, they move about, they make a circle, the circle tightens or it is released, bursts and forms again." — Gene Kelly
Source: Les Wedman (1967)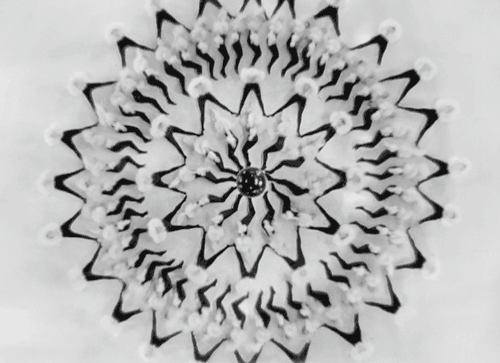 "He did it all. In the space of five years, he did every shot in the book. And don't forget, they had no zoom lenses and no helicopters. Nothing like that. He would invent things. It was a novelty. It was a gimmick. But very important." — Gene Kelly
Source: Les Wedman (1967)
Marie Marks (real name Marie Latourette) was a teenager when she appeared in Wonder Bar (1934) and Dames (1934). Apparently, she was never signed to a contract while working on those films. Because she was considered a minor (at 18), a court had to approve her contract to R-K-O in 1937 for $75 a week.
In 1936, she had married a wealthy man named Cecil Stillman. When she discovered that he was still married to someone else, she sued him for $200,000. In 1937, she dropped the lawsuit and a court annulled her marriage. That same year, R-K-O dropped her, and Marks' Hollywood career was over.
Photo: 1936