"I trained myself to be able to imagine an entire musical sequence without having sets put up on the stage, to film it exactly as it would be seen on the screen without the help of editing or of multiple cameras. Everything is prepared in my head beforehand. I tell the cameraman what I want, precisely, down to the final detail." — Busby Berkeley
Source: Les Wedman (1967)
Lorena Andrews, c. 1933.
Old Hollywood Collection: Gold Diggers of 1933 – Chorus Girls – Showgirls – We're In the Money Mug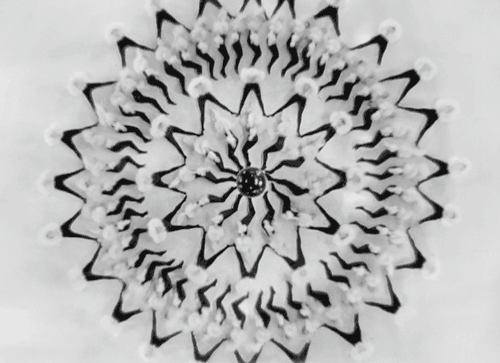 "He did it all. In the space of five years, he did every shot in the book. And don't forget, they had no zoom lenses and no helicopters. Nothing like that. He would invent things. It was a novelty. It was a gimmick. But very important." — Gene Kelly
Source: Les Wedman (1967)
Marie Marks (real name Marie Latourette) was a teenager when she appeared in Wonder Bar (1934) and Dames (1934). Apparently, she was never signed to a contract while working on those films. Because she was considered a minor (at 18), a court had to approve her contract to R-K-O in 1937 for $75 a week.
In 1936, she had married a wealthy man named Cecil Stillman. When she discovered that he was still married to someone else, she sued him for $200,000. In 1937, she dropped the lawsuit and a court annulled her marriage. That same year, R-K-O dropped her and Marks' Hollywood career was over.
Photo: 1936