If you love Hollywood pre-code musicals, you'll love our Chorus Girls "42nd Street" Mug.
Image depicts chorus girls promoting appearing in the musical, "42nd Street" (1932). The movie's musical choreopgrapher/director is Busby Berkeley. His chorus girls became famous around the world as Busby Berkeley girls.
About the film
Splashy Broadway productions have long inspired Hollywood movies, who consistently revel in Broadway's competitive auditions, personal and professional struggles, heartbreaks and over-the-top successes. Stamina, luck and temperance often superseded talent.  But despite all the hardships and setbacks, "The show must go on!" Right?
42nd Street became Warner Bros. groundbreaking musical in the early 1930s! It also became a box-office sensation as people stood in long lines, waiting for a chance to escape the harsh realities of the Great Depression. Back then, folks wanted music, songs, bright beautiful smiling faces and dancing…and 42nd Street delivered.
The film was one of many glamorous Busby Berkeley musicals made during the Great Depression. Many of its successors used the same girls. These films are still revered today for its innovative camera work and dreamlike atmosphere. Berkeley created kaleidoscopes of legs, smiling faces and synchronized movement that filmmakers today struggle to emulate, let alone surpass!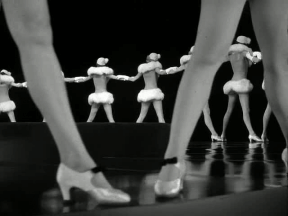 Needless to say, scores of chorus girls rounded out each Busby Berkeley production, providing visual eye candy for the audience! Oftentimes, they wore risque costumes reminiscent of the large vaudeville productions in New York City.
About the Chorus Girls "42nd Street" Mug
Get your feet tapping with this beautiful mug.
Offers good cheer even when experiencing your own Great Depression!
Not found in brick and mortar stores.
Whether you're drinking your morning coffee, evening tea, or something in between – this mug's for you! It's sturdy and glossy with a vivid print that'll withstand the microwave and dishwasher.
Ceramic
Dishwasher and microwave safe
White and glossy