Looking for the perfect gift for the film buff in your life? Or perhaps you are shopping for a one of a kind coffee mug for yourself!  This gorgeous Katharine Hepburn Mug is perfect for anyone who loves Classic Hollywood and the power and talent of a strong woman. Few people can compare with her. Katharine was truly an original. We miss her! She was always interesting.
Katharine Houghton Hepburn (May 12, 1907 – June 29, 2003) acted for approx. 60 years. She appeared in all kinds of film genres: including screwball comedy, historical dramas, and even a Western. She won four Academy Awards as Best Leading Actress. In 1999, the American Film Institute listed her as the greatest female star of Classic Hollywood Cinema. On and off screen, she was independent, vivacious and headstrong. A fiery force to reckon with.
Born to a wealthy family, she began acting while a student at Bryn Mawr College, a school that she denied attending for many years. After attaining early success on the Broadway stage, she signed a movie contract and moved to Los Angeles. In 1933 (after only three pictures), she won her first Academy Award for Best Actress for Morning Glory.  In the late 1930s, she purchased the rights to The Philadelphia Story  as a starring vehicle.
In the 1940s, she teamed up with one of Hollywood's greatest actors Spencer Tracy. This led to a string of classics, including Woman of the Year (1942),  Adam's Rib (1949) and Guess Who's Coming to Dinner (1967).
Her classics include Bringing Up Baby (1938),  The African Queen (1951), Suddenly, Last Summer (1959), The Lion in Winter (1968), and On Golden Pond (1981).  At the age of 87, she made her final screen appearance. In 2003, Hepburn passed away at the age of 96.
According to Wikipedia:
Hepburn famously shunned the Hollywood publicity machine, and refused to conform to society's expectations of women. She was outspoken, assertive, and athletic, and wore trousers before they were fashionable for women. She was briefly married as a young woman, but thereafter lived independently. With her unconventional lifestyle and the independent characters she brought to the screen, Hepburn epitomized the "modern woman" in the 20th-century United States, and is remembered as an important cultural figure.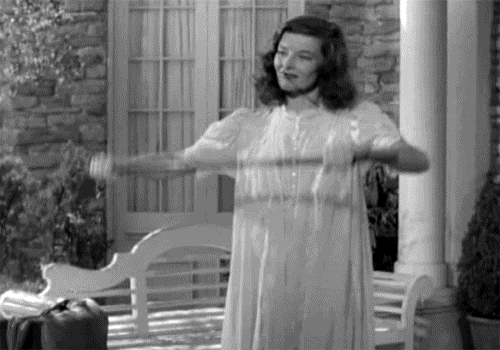 About the Katharine Hepburn Mug
Not available in brick and mortar stores.
This durable ceramic mug is always fashionable in a black color. High quality sublimation printing makes it an appreciated gift to every true coffee or tea lover, who always asks for a refill.
.: Black ceramic
.: 11 oz (0.33 l)
.: Rounded corners
.: C-handle
.: NB! Black print on black mug may differ in tones,
| | 11oz |
| --- | --- |
| Height, in | 3.75 |
| Diameter, in | 3.15 |